Testingfg of Ads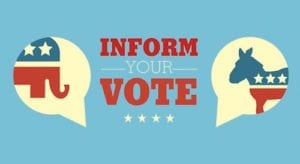 Rainbow Push kicks off GOTV rally
ATLANTA–The Rainbow Push Coalition and student leaders kicked off its Get Out The Vote (GOTV) campaign on Cot. 13 at Morehouse College.
The Rev. Jesse Jackson, Sr., founder and president of the Rainbow PUSH Coalition, discussed the "Hope is Alive" through Voting initiative, today's Civil Rights and announced the 17th Annual Creating Opportunity Conference, which will be held Oct, 20 – 22.
The GOTV is being supported by Rainbow PUSH Atlanta; Vote Empowerment Collaboration; the Peoples Agenda; NAACP; SCLC; American Voters League, Atlanta University student leaders; and organizers of the 17th Annual Creating Opportunity Conference Participants.
Rally organizers say voting registration has ended and now it is time to get out the vote.  It is time to activate the all registered voters in all community to get to the polls this fall.
In-person early voting for the General Election begins on Monday, Oct. 17.
Important Dates Concerning the November Election

| | |
| --- | --- |
| Oct. 11: Last Day to register to vote.                       | |

Oct. 17:   Advanced (in-person) voting begins

Oct. 29: Mandatory Saturday Voting for the General Election

 

Nov. 8: General Election/Special Election
DeKalb County's Super District 7 Special Election
A special election is under way for residents who live in DeKalb County's Super District 7. Even though there are nine candidates on the ballot, only eight are actually running. Jerome Edmonson withdrew but reportedly did not turn in the proper information so his name remains on the ballot.
DeKalb County's Homestead Exemption Act 264, House Bill 596
The General Assembly passed legislation in 2015 to place a referendum on the ballot to extend the existing Homestead Property Tax Assessment Freeze (applicable only to County taxes).  Voters who want to extend the Homestead Property Tax Assessment Freeze at the level set when you took the freeze should vote yes to approve the referendum. The freeze would be extended until 2022.  Voters who want to end the freeze at the end of 2016 should vote no.
Questions for Cities in DeKalb County
Those who live in the proposed boundaries of the City of Stonecrest are the only residents who will find the question on their ballot. Vote yes, if you would like to create the new municipality of Stonecrest. Vote no, if you oppose it.
DeKalb residents in the City of Atlanta have Special Election questions on T-SPLOST and MARTA sales taxes.
City of Decatur residents have five Homestead Exemption questions.
Pine Lake residents will vote on liquor package sales.
To see a sample ballot: visit http://web.dekalbcountyga.gov/Voter/pdf/SampleBallot/SB_11082016.pdf
Where can I vote early?
Early voting runs now through Nov. 4 and is available in Rockdale County at the main precinct located at 1400 Parker Road, Lobby C, Conyers.
Advance voting in Rockdale will be held Monday-Friday, Oct. 17- 28, 8 a.m.- 4 p.m. and Saturday, Oct. 29, 9 a.m. to 4 p.m. Extended hours: Monday- Friday, Oct. 31- Nov. 4, 8 a.m.- 7 p.m.
Early Voting in DeKalb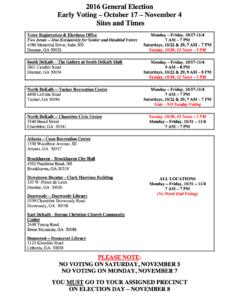 Gwinnett opens two additional advance voting sites Oct. 24
Starting Oct. 24, Gwinnett County voters will have two more places where they can cast an early ballot for the 2016 General Election.
Advance in-person voting has been taking place this week at the Gwinnett County Voter Registrations and Elections Office in Lawrenceville. That office will be open Saturday, Oct. 22, 8 a.m. until 5 p.m.
Voters will have the option of going to the main elections office, Lenora Park Activity Room at 4515 Lenora Church Road in Snellville or George Pierce Park Community Recreation Center at 55 Buford Highway in Suwanee for early voting. Polls at all three locations will be open Monday through Friday, Oct. 24 – 28, from 8 a.m. to 5 p.m.
Advance voting further expands on Saturday, Oct. 29, when these three sites plus five more locations will be open from 7 a.m. to 7 p.m. and continue Monday through Friday, Oct. 31 – Nov. 4, 7 a.m. to 7 p.m.
Voters also have the option to request an absentee ballot or vote at their assigned polling location on Election Day. For more information, please visit www.gwinnetteelections.com.