Testingfg of Ads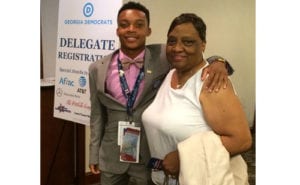 Kendall Austin, 18, of Decatur, the youngest Georgia Delegate to represent the Democratic National Convention, was courted by major news outlets during his trip to the convention in Philadelphia. MSNBC, CNN, Time Magazine for Kids and PBS were among the media outlets that interviewed him to get his perspective. Many even sent company cars to pick him up from his hotel.
"I am very excited to be here to represent the young Democrats and the younger generation in my community," Austin told On Common Ground News. "It is very important that our voices are heard."
The grandson of Sandra Austin, chairwoman of the DeKalb County Democratic Party, was introduced to politics at a very early age. As a youngster, Kendall was glued to his grandmother's hip during various caucus meetings and the 2008 DNC in Denver, where he witnessed history being made then, as the Democratic party nominee, Barack Obama, addressed the packed arena.
Fast-forward to his more direct involvement of another historical move, as Austin stood with fellow Georgians during the July 26 Roll-Call endorsement of Hillary Clinton:
"I can't even begin to describe that feeling. That experience, it was such an honor to stand there and be a part of that history-making event," the rising college freshman said. "It is so important that young people become involved in the political process. We are the voices of the future."
Austin will attend Lipscomb University in Nashville, Tenn. in the fall with a major concentration in biology.
Although Sandra Austin did not travel to the convention as a delegate this time around, she said she is extremely proud of our grandson's position and opportunity.
"I still won, just because of him. It's his turn," she said.