Testingfg of Ads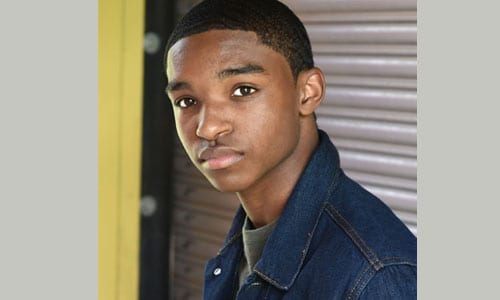 Christian Anderson, a 16-year-old junior at Heritage High School in Conyers, has been selected to participate in the 2017 All American High School Film Festival. Anderson, who produced a music video, is seeking the public's support for the chance to attend the festival Oct. 6-8 where his video will be screened at the AMC Empire Theaters in New York City's Times Square.
Anderson filmed, edited and directed the music video entitled "The Drive" for his friend and rap artist, Ahmady (Ahmad Barron), also a student at Heritage High School. The award finalists and winners will be announced at the Teen Indie Awards Show on Oct. 8, and Anderson is hoping to be among the winners named. More than $400,000 in scholarships and prizes are at stake.
"I was just excited that my video got picked out of all the submissions from around the world. This is a national competition and on a much bigger scale," said Anderson, who said he hopes to be the first African American film director to win an Oscar.
After submitting multiple videos in the action short film, documentary and music video categories, Anderson received an e-mail on July 29 from festival co-founders Andrew Jenks, Tom Olivia and Brian Lindenbaum stating:
"We are thrilled to recognize your outstanding efforts and proudly welcome you as a worthy representative of the next generation of filmmaking. As an official selection, your film will be screened the weekend of October 6-8th at the AMC Empire Theaters in New York City's Times Square. We received nearly 2,000 submissions from 50 states and 40+ countries and your film made the cut!"
Christian's mother, Raquel Lett-Anderson, said that she is very proud of her son's accomplishments  and hopes she can help the young filmmaker achieve his dreams of going to New York. The competition, she said, will not only allow him the opportunity to compete for scholarships and film equipment, but he will also get a chance to attend professional workshops and receive training from industry experts, network with leading film professionals and see his work in the IMAX theater at Times Square.
"Christian is a visionary. He is unbelievable. I'm just so excited that God is using him in this capacity for his generation," said Lett-Anderson.
Anderson said he became interested in filmmaking in middle school and enrolled in Heritage High School's Academy for the Visual and Performing Arts where his teacher, George Moll, inspired him to take film seriously. He also takes classes at the Rockdale Career Academy Film Institute to supplement his film studies.  With Rockdale County becoming an increasingly popular film location, Rockdale County Public Schools offers its high school film students cutting-edge training that positions them to succeed and take advantage of opportunities right in their backyards.
In the ninth grade, Anderson was recognized as the top student in his video broadcasting class and went on to excel in a variety of competitions including being honored as the One Act Regional Competition Winner and Best Supporting Actor in October 2016. Earlier this year, two of Anderson's films did not make the state placement he had hoped for, but he did not let that discourage him. Instead, he studied many films, watched master classes and even landed an internship with film director, William Hoffa, doing a music video for a new R&B group, The Mayne Event.
"He just kept practicing and doing things. If there's something he doesn't know, he's going to learn it. He'll go on YouTube,  he's going to ask his instructors. Christian is determined to perfect his craft as a filmmaker," said Lett-Anderson.
If given a chance to work with anyone, Anderson said some of his favorite directors are Ryan Coogler, Damion Chazelle, Will Packer and Oprah Winfrey.
"I love how everyone talks about Steven Spielberg as the pioneer for film. He is the guy that everyone looks up to for film, period. I want to be the pioneer of my film era. When you think of basketball, you think of Michael Jordan. When you think of tennis, you think of Venus and Serena Williams. When you think of film, I want you to think of Christian Anderson."
Anderson has created a GoFundMe campaign entitled "Fund a winning teen filmmaker" https://www.gofundme.com/48q0osg) to help raise $2,500 for him to go to New York in October.