Testingfg of Ads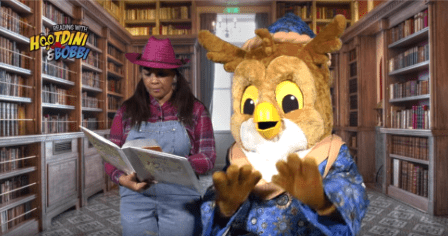 The DeKalb County School District (DCSD) invites all young readers to join Bobbi and Hootdini the Owl on adventures through children's literature.
DeKalb Schools TV (DSTV) is pleased to debut the pilot episode of "The Magic Library," the station's newest program for the 2019-2020 school year. This read-along series will inspire students to embrace the joy of reading books, as well as social and emotional wellness.
The target audience for "The Magic Library" is pre-kindergarten through third-grade students, but all are invited to join Hootdini the Reading Owl and his energetic narrator, Bobbi, as they discuss such topics as historic public figures, kindness, sports, and more.
"It's truly exciting that DeKalb Schools TV can provide students engaging programming that impacts student achievement," said DCSD Superintendent R. Stephen Green. "'The Magic Library' is a great example of the fun, entertaining and educational programs available to the DeKalb County community. In the digital age, it is critical that we continue to instill a love for reading and literacy, especially at a young age."
Airing on Comcast Channel 24 in DeKalb County, internationally on DSTV On Demand and @DeKalbSchools on YouTube, DCSD is sure this informative, entertaining reading show will be a hit with young viewers. The show's production is entirely in-house, including scriptwriting, casting, music, graphics, and editing.
For more information on "The Magic Library" and DeKalb Schools TV, visit www.dekalbschoolsga.org/communications/dstv/. DSTV programming can also be found at @DeKalbSchoolson YouTube.