Testingfg of Ads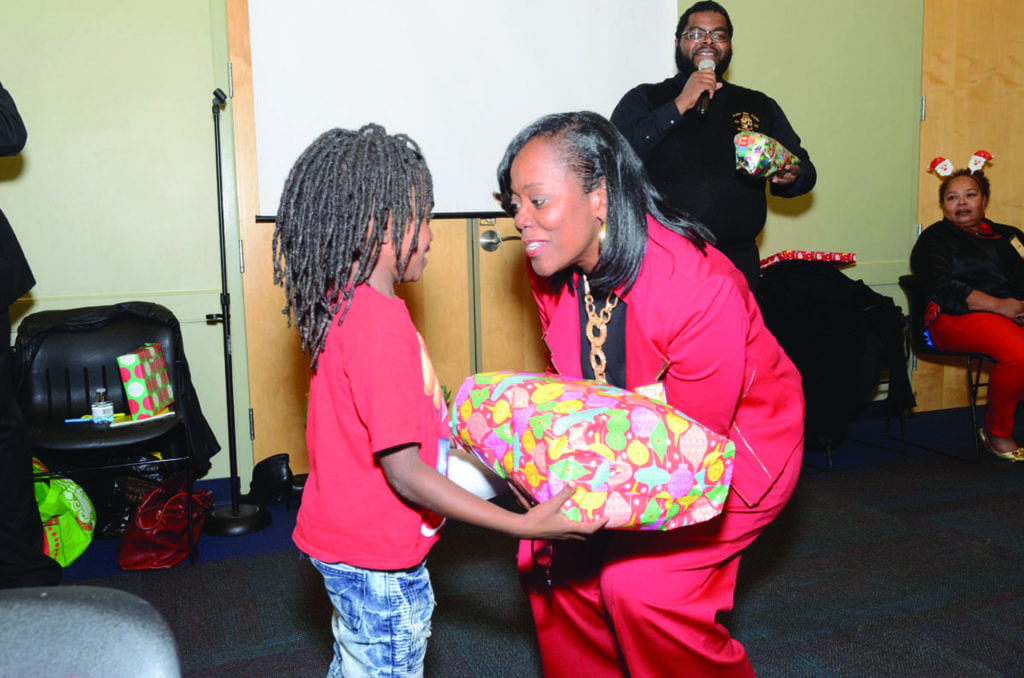 By Valerie J. Morgan
It wasn't Santa Claus who warmed the hearts of 30 children and their families who attended the Dec. 16 holiday party held at Rhodes Jordan Park in Lawrenceville. It was the angelic acts of Words of Comfort Ministries (WOC), which provided new toys and other gifts to the children ages 1 to 17 during a holiday dinner served with all the trimmings.
This year marked the sixth anniversary that WOC has hosted its Adopt-A-Family holiday event, said Dr. Gayle S. Daniels, founder.
Daniels and a team of volunteers showered the children not only with gifts, but provided their families with non-perishable food boxes to take home after the dinner. More than 100 people attended the celebration, Daniels said.
"We just want to be a blessing to others. We want to be a resource for those who suffer from hurt and despair as they tackle day-to-day life challenges," said Daniels. "We strive to bring hope and encouragement to individuals and families as a whole through key community partnerships.  I believe no matter how dark it gets, there is allows a glitter of hope through God and those willing to serve the less fortunate."
During the holiday event, WOC made a special presentation to a mother who is battling cancer and caring for her father, who is also battling cancer. WOC was able to grant the woman's wish for a better walker by collaborating with Yolanda Dupree Empowerment Group, Inc. and Kayla's Pink Ribbon Society, which provides support to women battling cancer. It is these types of partnerships that help small ministries with limited resources such as WOC to carry out its mission to serve.
In addition to the cancer survivor, Daniels said WOC also assisted a mother who is living in an extended stay motel with her children, a mother who is caring for seven children, and a grandfather who had been in and out of shelters with his two granddaughters.
Over half of the children served during this year's WOC Adopt-A-Family program were referred by the Division of Family and Children Services (DFACS) Kinship Program, which includes caregivers who are relatives such as grandparents, aunts and uncles who have opened their homes to displaced and homeless children Daniels said.
"The need for assistance is so great. WOC is in need of a building with the space capacity that would enable us to expand our services and enhance what we currently do," Daniels said.
Since 2011, nearly 60 families and 100 children have participated in WOC's Adopt-A-Family Program. Daniels attributes WOC's success to its seven-member board of directors and over 30 volunteers, and community partners such as Toy for Tots, Wells Fargo, Constellation An Exelon Company, Berean Christian Church, A Kids Dream and Heart Strong Church.
WOC can be reached at 678-357-5637 or cinfo@wocministries.com. The mailing address is 2140 McGee Road, Suite !-1500, Snellville, GA 30078.