Testingfg of Ads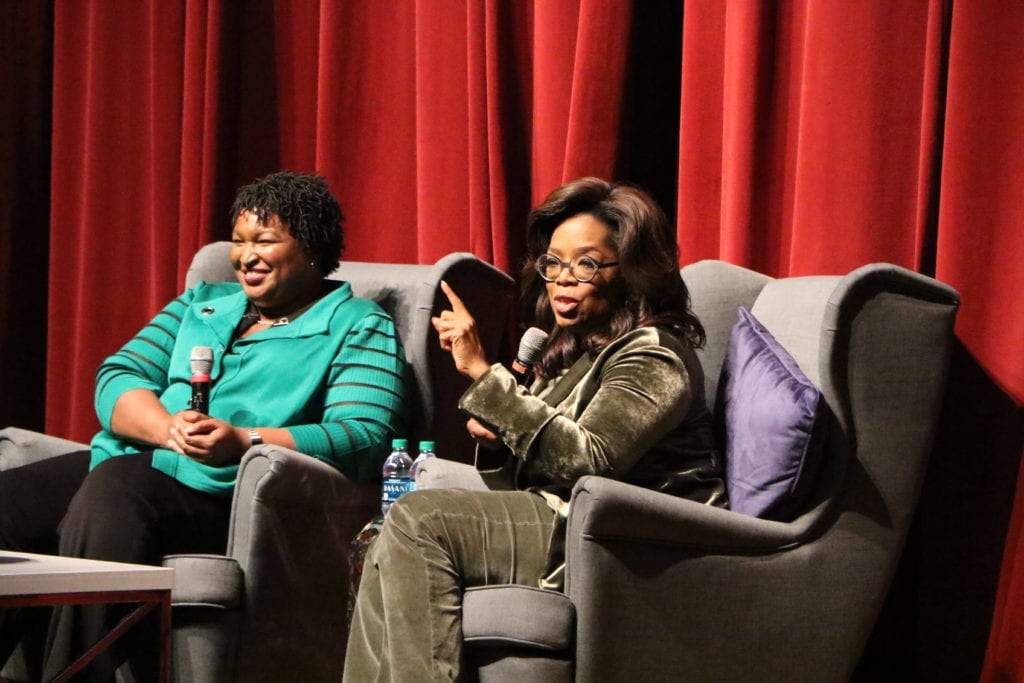 Talk show host and global media celebrity Oprah Winfrey came to Georgia to rally for Democratic gubernatorial candidate Stacey Abrams. Winfrey fired up a packed crowd at DeKalb County's Porter Sanford III Performing Arts Center in Decatur,telling them she wanted to be part of Abrams' historic bid for governor of Georgia.
"Nobody told me to be here. Nobody even asked me to be here.  I called her (Abrams) three days ago. I told her I wanted to come here and give my support and that is why I'm here," Winfrey told the cheering audience.  Several top elected officials attended the rally including Congressman Hank Johnson, Congressman John Lewis and DeKalb CEO Michael Thurmond.
Winfrey went on to say why it was imperative that voters, especially blacks, go to the polls on election day. She said those who sit at home and do not go out to vote disregard their history and disrespect their ancestors who never had the chance to vote.
The Nov. 1 town hall meeting was one of two held in the metro Atlanta area where Winfrey joined Abrams in stumpingfor votes to become the nation's first black female governor.  Before attending the DeKalb event in the late afternoon, the pair held a town hall meeting at the Cobb Civic Center Jennie T. Anderson Theatre in Marietta.
At both events, Winfrey discussed critical issues at stake in this year's election including Medicaid expansion, quality affordable health care and good jobs for Georgians.
Winfrey's town hall meetings preceded former President Barack Obama's scheduled Nov. 2 visit to Atlanta to get out the vote for Abrams and other Democrats. Thousands of people stood in line at various locations to try and snag a free ticket to attend the Obama rally.
On the Republican side, Vice President Mike Pence led three rallies for Brian Kemp near Dalton, Augusta and Savannah on Nov. 1. President Donald Trump confirmed plans to host a rally for Kemp in Macon on Sunday, Nov. 4.
In addition to Abrams and Kemp, Libertarian candidate Ted Metz is running for governor in the hotly contested race.
   More photos on Oprah Winfrey's visit by Glenn L. Morgan and video are available at www.ocgnews.com.