Testingfg of Ads
ATLANTA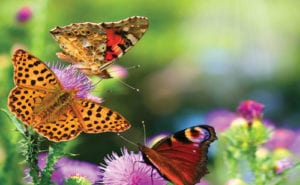 Dunwoody Nature Center hosts 23rd Annual Butterfly Festival
Venture inside two enormous tents overflowing with hundreds of gorgeous, free-roaming butterflies Saturday, Aug. 20, 10 a.m. to 4 p.m., at the Dunwoody Nature Center, 5343 Roberts Drive, Dunwoody.
Bring the family for a day of activities including a Birds of Prey show, live animal encounters, games, educational booths, crafts, music, food and drinks.
The price is $8 for adults, $5 for children ages 4-12 and free to children ages 3 and under. For more information, visit http://www.dunwoodynature.org/ or call 770-394-3322.
Musical production offers glimpse into the lives of women of color
Join the cast of "Da Kink in My Hair," an ethnic play about black women, for multiple show dates that run through Aug. 27 at the Horizon Theatre, 1083 Austin Avenue, Atlanta.
"If you want to know a black woman, you touch her hair," says Novelette, as she delves into the tresses and stresses of her clients to reveal their hidden stories. In the salon of their West Indian stylist, hurried women converge to have their hair done for dates, jobs and upkeep. They come away with not just a new hairdo, but a lifted soul and a lightened heart. This amazing musical tells their incredible, uncensored, unforgettable tales through dance, song and stories that will move, inspire, and delight!
"Da Kink in My Hair" runs about 2 hours with an intermission. Handicap seating is available but limited. Please call to reserve, if needed. Tickets start at $25 (plus tax) and can be purchased at www.horizontheatre.com or by calling 404-523-1477.
DEKALB
Voices of Faith Ministries announces car and bike show, welcomes vendors
Voices of Faith Ministries is hosting a car and bike show Saturday, Sept. 17, 10 a.m. to 4 p.m. at the church's Stone Mountain campus, 2500 Rockbridge Road SW.
The event will include a health fair with free health checkups, performances, live music, raffles and prizes for cars and bikes that place.
The event is free and open to the public. To be a vendor or to register for the car and bike show, visit www.voicesfaith.org or call 770-498-5850, ext. 330.
Stonecrest Library to host Savvy Traveler Workshop
 Join Priscilla Smiley, author of The Savvy Traveler, Saturday, Aug. 27, 3 to 4 p.m. at Stonecrest Library, 3123 Klondike Road, Lithonia.
Smiley has visited more than 26 countries in five years. She'll share her strategies for travelling abroad, no matter the size of your budget. This workshop is free and intended for adults 18 years of age or older. For more information, call 770-482-3828.
City of Stone Mountain to host "Rock the Block" celebration
 Officials from the City of Stone Mountain and DeKalb County will hold a dedication ceremony for the Children's Lending Library program on Saturday, Aug. 27, 11 a.m. at Randolph Medlock Park, 735 Ridge Ave.
Park Pride and PNC Bank, which donated a collection of books to the lending library, will be recognized at the "Rock the Block" celebration.
Speakers at the ceremony include Mayor Pat Wheeler, Stone Mountain Chief of Police Chancey H. Troutman and Steve Bradshaw, Democratic Candidate for DeKalb County Commission District 4.
Activities will follow the dedication ceremony.
Ghost Tours scheduled to spook Stone Mountain visitors
 Prepare to be spooked out at The ART Station's "Village Ghost Tours" Saturday, Aug. 27, at the Stone Mountain Village Art Station, 5384 Manor Drive, Stone Mountain. Ghost tours begin at 6:30 and 8:30 p.m. and last approximately one hour.
Guests on the tour ride the new ART Station Tram, which seats up to six people. Patrons are shuttled from ART Station to the Stone Mountain Cemetery where they are met by ART Station Master Storyteller David Hirt.
Village Ghost Tours require a light to moderate amount of walking. Tours may be conducted in light rain, but will be canceled and rescheduled in the case of hard rain and severe weather.
Tours are scheduled by reservation only and are $25 for adults and $18 for children 14 and under. The tour is not recommended for children 8 and under. For more information, visit www.artstation.org or call 770-469-1105.
GWINNETT
Free gardening class offers instruction on herb gardening
Join Gwinnett County Extension Agent Tim Daly for an informative workshop on herb gardening Aug. 25, 7 to 8 p.m., at the Norcross Human Services Center, 5030 Georgia Belle Court, Norcross.
Herbs are excellent garden plants that require minimal maintenance and come in a variety of scents, flavors, and colors.
There is no charge, but you must register by Aug. 23. For more information or to register, contact Timothy Daly at 678-377-4010 or email timothy.daly@gwinnettcounty.com.
Centerville Community Center hosts Carnival and Technology Fair
On Aug. 27, 9 a.m. to 4 p.m., come and enjoy class demonstrations and receive information on educational, health, and wellness programs provided at the Centerville Community Center, 3079 Bethany Church Road, Snellville. There will be indoor, outdoor, and ongoing activities for the entire family from 9 a.m. until noon. Later in the day, enjoy a bilingual story time, craft project, and demonstrations of new technologies for all ages in the Centerville Branch Library from 1 to 4 p.m.
For more information, call 770-985-4713 or log on to www.centervillecommunitycenter.com.
Senior center offers cool evening of smooth jazz
It's a hot night for some cool jazz! Come enjoy a delicious dinner and a soulfully smooth jazz show Monday, Aug. 29, 4:30 p.m. to 6 p.m.,  at Bethesda Park Senior Center, 225 Bethesda Church Road, Lawrenceville.
The cost is $11/person. You must register by Aug. 24. For more information, call 678-277-0179 or visit www.gwinnettparks.com.
ROCKDALE
Father/Son fishing day at Black Shoals Park in Conyers
Want a little bonding time with the little fellow or young man in your life? Catch a fun free fishing event on Sept. 17, 9 to 11 a.m., at Black Shoals Park, 3001 Black Shoals Road, Conyers.
This event is designed to give father and son some time to enjoy fishing. Participants must bring bait, fishing tackle, and a fishing pole.
There are only 40 slots available for this free event, so please register early. Registration begins on Sept. 1 at the Johnson Park Recreation Center or register online up until the day of the event. For more information, call 770-278-7529 or register at https://secure.rec1.com/GA/rockdale-county/catalog.
Monastery offers architectural tour of sacred grounds
Learn more about the beauty and history of this inspiring community on Saturday, Aug. 20, 1:30 to 4 p.m. at the Monastery of the Holy Spirit, 2625 Highway 212 SW, Conyers.
This event is sponsored by the Arabia Mountain Alliance every third Saturday of the month.
The cost is $10 and participants must register at http://monasterytours.brownpapertickets.com/. For more information, call 770-483-8705.
Expo set for local children's authors
The Conyers-Rockdale Library System will host the Local Children's Author Expo on Saturday, Aug. 20, 2 to 4 p.m., at the Nancy Guinn Memorial library, 864 Green St., Conyers. The expo will be held in the lower level library meeting room.
The author expo provides an outlet for local children's authors to showcase their books and network while giving patrons the opportunity to purchase autographed books and spend quality family time.
This event is free and open to the public. All ages are welcome.
For more information and author registration, contact the Adult Services Department at 770-388-5040 or visit www.conyersrockdalelibrary.org.
Rockdale Medical Center sets community blood drive
Share the gift of life and be a volunteer blood donor at Rockdale Medical Center's blood drive on Tuesday, Aug. 23, 10 a.m. to 3 p.m., 1412 Milstead Ave. NE, Conyers (in the east tower classrooms at Rockdale Medical Center).
Participants will enjoy vintage TV shows while they donate and will receive snacks and a chance to enter a drawing for prizes.
For more information or to register, please go to www.givelife.org and enter the sponsor code "rockmed."
To contact the American Red Cross, call 1-800-GIVE-LIFE (448-3543). To contact Rockdale Medical Center, call 770-918-3000 or visit www.rockdalemedicalcenter.org.
'Lunch on the Lawn' brings local entertainment to Rockdale residents
Enjoy live music and lunch on the lawn at the Olde Town Pavilion Friday, Aug. 26, 11:30 a.m. to 1:30 p.m., 949 South Main Street, Conyers.
This month's featured artist is Benson and Leinweber. Buy lunch and treats from Olde Town eateries such as AWAKE Coffee Community, Beasley Drug Company, Celtic Tavern, Creamberry's and more. Bring a blanket or lawn chair to enjoy the tunes and food. For more information, call 770-602-2606.