Testingfg of Ads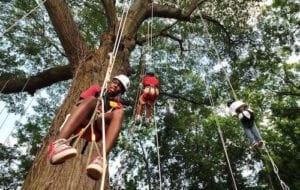 Panola Mountain State Park to offer tree climbing adventure
Join Panola Mountain State Park rangers for an adventurous day of tree climbing Sunday, Aug. 14, 1 to 5 p.m., 2620 Highway 155 SW, Stockbridge.
This introductory program introduces participants to the world of recreational tree climbing. Participants will use rope and harness to ascend into a 200-plus-year- old Southern Red Oak, where they can climb, swing, and scramble. This strenuous activity is well worth the effort. Climbers can choose how high they would like to go and even swing to and walk on branches 30 feet off the ground.
Climbs start at 1 and 3 p.m. Call to register. Admission is $15, parking $5. Open to ages 8 and up. Close-toed shoes and long pants recommended. Hair longer than shoulder length should be pulled back in a low ponytail. All equipment is provided. Arrive early to allow for walking time. To register or for more information: 770-389-7801.
ATLANTA
Atlanta Underground Film Festival set
Film enthusiasts are invited to the 13th annual Atlanta Underground Film Festival Aug. 19 – 21 at the Synchronicity Theatre and The Eyedrum Gallery, 1545 Peachtree St NE, Atlanta.
Since 2004, the Atlanta Underground Film Festival has served as a forum where independent filmmakers thrive outside the mainstream arena. The festival exposes and promotes creative artists. Through the festival, these talented independent filmmakers have a voice through their creations.
For more information, call 404-484-8636 or visit www.auff.org/home.html.
Come out for Jazz at the High
Join the High Museum for a night of Jazz Friday, Aug. 19, 6 p.m., 1280 Peachtree St NE, Atlanta.
Every third Friday, the museum presents a unique jazz experience with music, drinks, and art no matter the month for just $10. August features the sounds of South African trumpeter Darren English. On his debut album, Imagine Nation, English pays tribute to Nelson Mandela, in addition to reworking classic standards.
Seating for Friday Jazz is limited and opens at 6 p.m. There is no reserved seating and standing room is plentiful. For more information, call 404-733-4444 or visit www.high.org.
DEKALB
DeKalb Clerk DeBerry hosts Community Appreciation Day
DeKalb County Superior Court Clerk Debra DeBerry is hosting the 4th Annual Community Appreciation Day, Saturday, Aug. 13, 5 to 9 p.m., at Browns Mill Aquatic Facility, 4929 Browns Mill Road Lithonia.
Guests will receive complimentary entry into the facility and a complimentary food ticket. The family-oriented event will feature games and music in appreciation for the community's support.
Yoga with Andrea Redmond at Stone Mountain library
Join the Stone Mountain-Sue Kellogg Library for free yoga Saturday, Aug. 20, 1 to 2 p.m., 952 Leon Street, Stone Mountain.
Bring your yoga mats and join teacher Andrea Redmond for a one-hour session of invigorating and relaxing yoga practice. Beginners and participants of any level are welcome. Open to first 15 participants.
For more information call 770-413-2020 or visit www.dekalblibrary.org/events.
Ninth Annual STEMS Fair for middle school students at Saint Philip A.M.E. Church
The Saint Philip A.M.E. Church Career Resource Ministry will hold its ninth STEMS (Science, Technology, Engineering, Mathematics, and Services) Career Fairs for middle school students on Saturday, Aug. 27, 8:30 a.m. to noon, at the church's Family Life and Activity Center, 1607 Richard Allen Drive, Decatur.
The exhibit hall will be filled with displays from Lockheed-Martin, High Touch High Tech, Savannah College of Art and Design, AT&T and professionals from other STEMS-related companies.
Registration is required for middle school students who will receive free conference bags. However, all grades are welcome. There will be parent workshops about college planning, financial aid and tips to help students effectively plan for a STEMS-based education and career. All activities are free and open to the public.
Registration information includes the students' name, grade, and school as well as parent's name and contact information (phone number and email address). Please email your child's registration to spc_crm@saintphilip.org.
For more information, call 404-371-0749 or visit www.saintphilip.org.
DeKalb History Center sheds light on post Civil War Reconstruction
The DeKalb History Center invites the public to attend a symposium about Reconstruction in DeKalb and Atlanta on Saturday, Aug. 20, 10 a.m. to 1:30 p.m., at the Historic DeKalb Courthouse, 101 East Court Square, Decatur.
The symposium will provide a forum for scholarly presentations and a discussion about conditions in Atlanta and DeKalb County after the Civil War. Featured speakers are Dr. Brian Wills (KSU), Dr. Wendy Venet (GSU) and Dr. Glenn Eskew (GSU).
Tickets are $35 for DeKalb History Center members and $45 for nonmembers. A catered lunch is included. For more information, call 404-373-1088 or visit www.dekalbhistory.org.
Eddie's Attic to host songwriter's open mic
Join Eddie's Attic Monday, Aug. 15, 7:30 p.m., for a night of music at 515-B North McDonough Street, Decatur.
For more than 20 years, Eddie's Attic has hosted Atlanta's premiere songwriter's open mic for the performing songwriter. National and local acts perform two songs each, with three finalists returning for a third song at the end of the evening for a chance to win a cash prize and a spot in the bi-annual, nationally-acclaimed "Open Mic Shootout." Come out and see up-and-coming talent.
Tickets are $5 in advance and $6 at the door. For more information, call 404-377-4976 or visit www.eddiesattic.com.
GWINNETT
Harry Potter Party at Collins Hills Library
Visit the Collins Hill library on Saturday, Aug. 20, 1 to 3 p.m., for a Harry Potter party at 455 Camp Perrin Road, Lawrenceville.
Enjoy a magical afternoon filled with Harry Potter-themed crafts, snacks and games. Costumes are welcome.
For more information, call 770-978-5154 or visit www.gwinnettpl.org.
Baby and Me literacy program set
Caregivers and pre-walkers ages 1 and under are invited to the Collins Hill Library for a special literacy program on Saturday, Aug. 13, 10:30 a.m. to 11 a.m., 455 Camp Perrin Road, Lawrenceville.
Develop your baby's pre-literacy skills during this special lap sit story time for infants.
This program will introduce books, rhymes, songs and sensory play to babies and their parent or caregiver. Using movement activities and baby sign language, infants will discover a variety of ways to interact with others.
For more information, call 770-978-5154 or visit www.gwinnettpl.org.
ROCKDALE
Expo set for local children's authors
The Conyers-Rockdale Library System will host the Local Children's Author Expo on Saturday, Aug. 20, 2 to 4 p.m., at the Nancy Guinn Memorial library, 864 Green St., Conyers. The expo will be held in the lower level library meeting room.
The author expo provides an outlet for local children's authors to showcase their books and network while giving patrons the opportunity to purchase autographed books and spend quality family time.
This event is free and open to the public. All ages are welcome.
For more information and author registration, contact the Adult Services Department at 770-388-5040 or visit www.conyersrockdalelibrary.org.
Rockdale Medical Center sets community blood drive
Share the gift of life and be a volunteer blood donor at Rockdale Medical Center's blood drive on Tuesday, Aug. 23, 10 a.m. to 3 p.m., 1412 Milstead Ave NE, Conyers(in the east tower classrooms at Rockdale Medical Center).
Participants will enjoy vintage TV shows while they donate and will receive snacks and a chance to enter a drawing for prizes.
For more information or to register, please go to www.givelife.org and enter the sponsor code "rockmed."
To contact the American Red Cross, call 1-800-GIVE-LIFE (448-3543). To contact Rockdale Medical Center, call 770-918-3000 or visit www.rockdalemedicalcenter.org.