Testingfg of Ads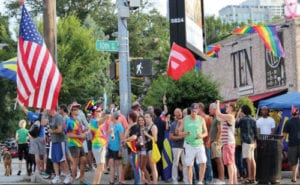 Atlantans are uniting to remember the people who were killed and wounded in Sunday's mass shooting at a gay nightclub in Orlando, FL.
The massacre, which claimed the lives of at least 50 people and 53 injured, is being called the deadliest mass shooting in U.S. history. Several authorities identified Omar Mir Seddique Mateen, 29, as the shooter. Mateen was killed in a standoff with police after holding patrons of the Pulse Nightclub hostage for three hours. Reports from witnesses described the scene as a blood bath with people scurrying for cover as Mateen used an AR-15 type rifle and handgun in the 2 a.m. shooting spree.
In the aftermath of the rampage, Atlanta's Center for Civil and Human Rights LGBT Institute announced plans to hold a vigil and community gathering on June 14, 7 p.m. at 100 Ivan Allen Jr. Blvd., in downtown Atlanta.
A prominent group of Atlanta faith leaders also announced plans to hold a prayer vigil on June 15, 7 p.m., at Ebenezer Baptist Church, 407 Auburn Ave., Atlanta. The coalition includes the Rev. Raphael Warnock, senior pastor at Ebenezer Baptist Church; Pastor Pam Driesel of Trinity Presbyterian Church; the Rev. Jen Lyon, pastor of Congregational Leadership at Park Avenue Baptist Church; the Rev. Dr. James Lamkin, senior pastor at Northside Drive Baptist Church; Rabbi Peter Berg, senior rabbi at The Temple; and the Rev. Kimberly Jackson, Episcopal chaplain to the Atlanta University Center; the Rev. Sharon Hiers, senior associate of The Episcopal Church of the Epiphany.
"The vicious attacks on a gay nightclub in Orlando, Florida this past weekend and a black church in Charleston, South Carolina last year are, at root, about the same thing: a tragic failure to see and honor the humanity of those who are different," said the Rev. Warnock. "We are one. We reject the fallacious logic of racism. And, those of us who have been passionate and outspoken in our resistance to racial bigotry must do the same for Islamophobia and other forms of religious bigotry. We must all stand together against homophobia recognizing that our LGBTQ sisters and brothers are us and among us. We reject hateful actions, and we reject the hateful speech that leads to hateful actions. We stand together in love."
Pastor Driesell called on elected officials in Georgia and throughout the nation to stand together against gun control.
"Our prayers and deepest condolences are with the families of the victims slain in today's shooting. As people of faith committed to reducing gun violence, we will not allow the lives of these victims to go in vain," said Pastor Driesel. "From Sandy Hook to Charleston, from San Bernardino to Orlando, we know that every life lost is precious. We pray that elected officials in our state and throughout the country will work diligently to keep guns out of the hands of violent criminals."
Law enforcement officials say that believe Mateen was inspired by Islamic State of Iraq and the Levant (ISIL), however investigators are still trying to determine Mateen's motives and whether or not he acted alone.
John Evans, president of the DeKalb County NAACP branch, said more must be done about gun control in the U.S.
"It's a tragedy, terrible thing. There hasn't been a bigger mass killing in this country beyond slavery. We've got to do something to put assault weapons in check. These types of guns continue to end up in the wrong hands. These are weapons of war. You shouldn't be able to just go out and buy a gun like these," Evans said. "We can't keep using the excuse that we can't stop because people are going to get them anyway."
DeKalb Interim CEO Lee May called on the community at large to pray for the victims' families and leaders in Orlando.
"Once again our nation is faced with an unnecessary and heartbreaking tragedy. Like many of you, my heart breaks that we are here once again. Often, prayer feels like a passive response, but in reality it is a powerful act of surrender to God. Together, let's pray for Orlando, the loved ones of the victims and the leaders of Orlando. May God Bless Orlando. God Bless America. (If you live in the Orlando area, please consider giving blood at your local blood bank)," May said in a Facebook post.
DeKalb Commissioner Larry Johnson, presiding officer of the DeKalb Board of Commissioners,
"Our hearts and prayers go out to all of the families and victims of this unspeakable tragedy that happened on this past weekend in Orlando, Florida. We pray for your healing during this time of loss," Johnson said.
State Representatives Park Cannon (D-Atlanta), Karla Drenner (D-Avondale Estates) and Keisha Waites (D-Atlanta) issued statements regarding the shooting:
"Make no mistake, the LGBTQ community is under attack, even within the 'safe places'," said Rep. Cannon. "I am devastated to report that I am close to someone who has been affected by this extreme outbreak of gun violence in Orlando, Florida. Please lift prayers for the families, friends, and communities of those who escaped, endured a terrifying hostage situation, or were unable to avoid this horrific act of mass violence."
"We are deeply saddened to hear of the tragic loss of many innocent lives in Orlando, Florida," said Rep. Drenner. "There are also many steps we can take to lessen the chance of these types of mass shootings from occurring in Georgia, including exploring legislation to prevent individuals who have been listed at some point on an FBI watch list as potential threats to our safety from procuring such weapons."
"The tragedy that took place in Orlando was in fact a political statement, and the notion that we should not politicize the Orlando massacre is naïve," said Rep. Waites. "The reality is that the United States reported 32,000 gun deaths last year, and there is a reason why countries such as the United Kingdom, France, Denmark, Germany, Sweden, Japan, Australia and Canada combined have a lower gun violence rate. The 50 Americans who were viciously assassinated deserve our commitment to calling for gun reform, hate crimes legislation and LGBT equality."
Supporters of the LGBT community called the heinous act of violence a hate crime. Hundreds of people poured into the streets on the 10th block in Midtown Sunday night to honor the victims and left a memorial of candles for the victims. Atlanta Mayor Kasim Reed was among those who attended the vigil. The city's flag was flown at half staff to remember those slain.
For more information on Atlanta's Center for Civil and Human Rights vigil, visit www.lgbtinstitute.org for parking and vigil information.