Testingfg of Ads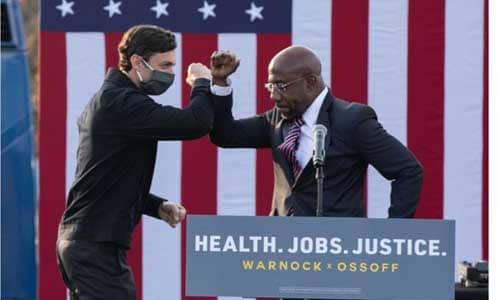 Pictured L-R: Jon Ossoff and Rev. Raphael Warnock
Well-wishers extend congratulatory statements 
With their historic victories in Georgia's Jan. 5 runoffs, Rev. Raphael Warnock and Jon Ossoff will become the 49th and 50th members of the Democratic caucus in the U.S. Senate. Their victories mean that Democrats for the first time in a decade will control the upper chamber. Democrats will hold 50 seats in the Senate—a monumental power shift that will put the Vice President-Elect Kamala Harris in a position to break a tie vote in the Joe Biden administration.
Well-wishers from the metro Atlanta area, as well as from around Georgia are congratulating Warnock, who defeated Republican incumbent Kelly Loeffler, and Ossoff, who defeated Republican incumbent David Perdue.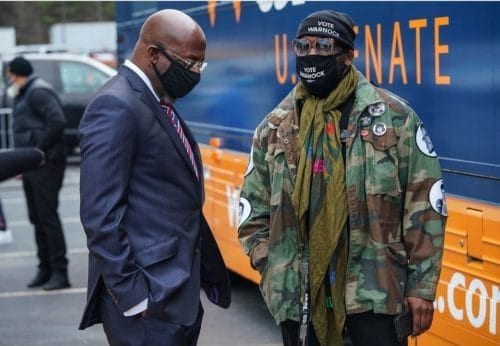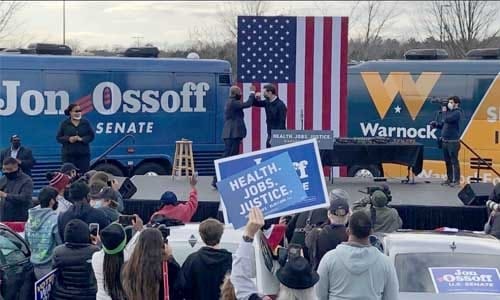 Pastor Jamal Bryant, senior pastor of the mega New Birth Missionary Baptist Church in DeKalb County, issued the following statement:
"I want to extend congratulations to U.S. Senators- elect Jon Ossoff and Reverend Raphael Warnock. Their ascension to U.S. Senate represents both a validation of progressive values and an amazing opportunity to improve the lives of underserved and vulnerable communities throughout Georgia and across this nation.
The energy that has thrust Senators-elect Warnock and Ossoff into this historic moment must not dissipate, but rather intensify as they head to Washington to do the work of making America fairer, more equitable and closer to a more perfect union. We look forward to working with these two dynamic leaders to make positive, progressive change in our state and across the United States."
Bryant signed on with a coalition of faith leaders across Georgia to support Warnock in his bid for the U.S. Senate. Pastor Bryant and Warnock both attended Morehouse College as classmates.   
Georgia AFL-CIO President Charlie Flemming also congratulated Warnock and Ossoff.
"The Georgia AFL-CIO congratulates U.S. Senator-elects Rev. Raphael Warnock and Jon Ossoff for their tremendous, hard-fought victories.
"From day one, both Rev. Warnock and Ossoff made their priorities clear: strengthen and expand affordable health care, tackle economic and racial inequality, and represent the interests of Georgia's working people in Congress. Both understand firsthand the dignity that comes from hard work and the importance of a well-paying job with good benefits and the right to form a union. There is not a doubt in my mind that our state's working families will be stronger with the two of them in office. We look forward to working with both Senators on passing labor law reform and COVID-19 relief in Congress."
The Georgia AFL-CIO is a key part of the nation's largest and strongest labor federation with more than 12.5  million working women and men of every race and ethnicity and from every walk of life.
The United Food and Commercial Workers International Union (UFCW), which represents 1.3 million frontline workers — including over 20,000 Georgia workers — applauded the election of Warnock and Ossoff, calling their wins a victory for working families across Georgia.  
UFCW International President Marc Perrone released the following statement:
"Georgia voters delivered a powerful message with the election of Reverend Raphael Warnock and Jon Ossoff, declaring that hardworking men and women, and their concerns and issues, must come first. Over a million hard-working UFCW members have been on the frontlines of the pandemic, bravely putting their own health at risk in grocery stores, pharmacies, senior care facilities, and meatpacking plants to ensure that America's families have the food and care they need during this crisis.
"As COVID-19 cases continue to spread across this nation, there has never been a more important time for new leaders who will finally put frontline workers first and stand up for the healthcare, hazard pay, and vital safety protections they need.
"UFCW members across Georgia and every state were proud to help get out the vote and are ready to work with the new Democratic majority and Senators-elect Warnock and Ossoff to deliver the positive and real change our country and families need."
Counties in Georgia must certify the results of  their election results by Jan. 15 at 5 p.m. Georgia's Secretary of State Brad Raffensperger has until Jan. 22 to officially certify the statewide results.