Testingfg of Ads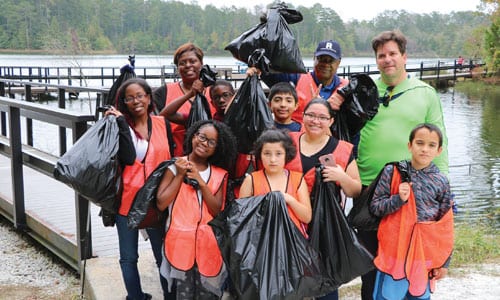 Volunteers fanned out around Rockdale County recently to clean up during the annual Rivers Alive campaign. The effort resulted into the collection of 10,420 pounds of litter.
Keep Conyers-Rockdale Beautiful (KCRB) hosted the annual event on Saturday, Oct. 14, drawing more than 200 volunteers, including 96 youths from local schools, civic organizations and scout troops.
This year's cleanup removed hundreds of bags of garbage and 117 tires amounting to nearly 5.2 tons from local parks, roadways and waterways, Randy Poynter Lake and other locations.
As a thank you, volunteers received a free T-shirt from Rivers Alive. The event ended with a barbecue lunch of hamburgers and hotdogs that Rockdale Water Resources and ESG Operations donated. Carlton Brannon, owner of Nabo's BBQ, donated his time to prepare. Several Rockdale County and City of Conyers departments, as well as Pratt Industries participated with the cleanup effort.
Through public-private partnerships and strategic alliances with citizens, businesses and governments, KCRB's efforts each year motivate hundreds of volunteers to clean up and improve Rockdale County.