Testingfg of Ads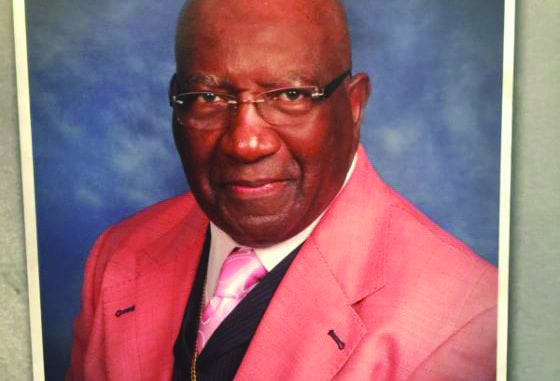 The Honorable Bishop Egleton Leroy Woodside, Sr. received his Wings of Glory and went home to be with God on Friday morning, March 10, 2017. He was 78.
Bishop Woodside was a premarital counselor, marriage counselor, life teacher and he was over benevolence at Voices of Faith Ministries under the leadership of Bishop Gary Hawkins, Sr..
Bishop Woodside was the fifth son of eleven children born to the late Bishop Herbert Woodside, Sr. and the late Evangelist Lillian Maude Woodside on Dec. 12, 1938. He was raised and educated in Florida and it was there that he received Christ as his personal savior. He moved to Brooklyn, N.Y. to live with his aunt and uncle.
In 1958, he met the love of his life and married her on Sept. 5, 1959. He was married to Eva Woodside, for 57 years. To this union were born seven children, who all are serving in ministry: Pastor Regina Williams(Bishop Fabian); Pastor Leroy Woodside, Jr. (Pastor Yvonne); Pastor Tyrone Woodside (Pastor Frances); Antoniette Woodside; the Rev. Bernard Woodside (Patricia); Elder Charmise Desire (Yves); and Pastor Tabreeca Woodside.
The couple began their new life and ministry as one. They joined the Mount Sinai Church of God in Christ in Brooklyn, N.Y. under the leadership of Bishop C.L. Sexton, Sr. Bishop Woodside's ordination was performed by Bishop O.M. Kelly. In 1974, he founded First Church of God in Christ and over the years, his ministry flourished with him becoming the overseer of a group of Pakistani churches. Locally, he worked with a host of Spanish-speaking congregations and in 2002, he was consecrated as a Bishop and appointed presiding Prelate of the Inner City International Churches, Inc.
After years of laboring, Bishop Woodside turned his ministry over to his son, Pastor Leroy Woodside, Jr., and he and Mother Woodside moved to Snellville and connected with Bishop Hawkins at Voices of Faith.
Bishop Woodside wore many hats in his life, one being the Chaplain of Nassau City, NY Sheriff's Department. He also retired from NYC Transit.
"Mother Woodside," affectionately called by those who know her, said her husband retired, but he was such a hard worker that he didn't really know what retirement was. He never stopped working for the Lord. With a servant's spirit, he would give away food to those in need, before it made it to his own house.
In his pastime, Bishop Woodside enjoyed doing crossword puzzles and reading books such as "Rich Man Poor Man," "The Leader Within You" by John Maxwell, "Spiritual Apprenticeship (Opening Doors of Promotion)" by Mark Carrillo and the books of Tony Evans to name a few.  Bishop Woodside also loved to work in his yard and to garden.
The celebration of life for Bishop Woodside will be held Saturday, March 18, 11 a.m. at Voices of Faith Ministries, 2500 Rockbridge Road S.W.,Stone Mountain, GA. The body will lie in state at 10 a.m. before the service. Gregory B. Levett and Sons Funeral Home is handling the arrangements.