Testingfg of Ads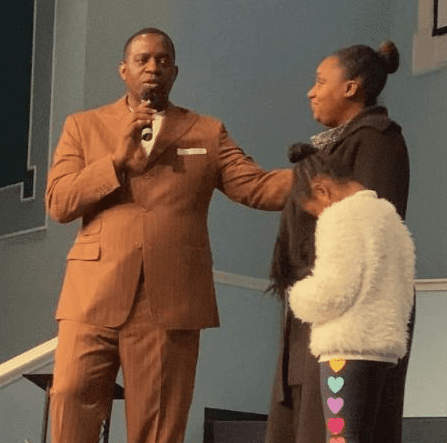 Bennice Lovelace and her 8-year-old daughter received an outpouring of support from her church family, Voices of Faith Ministries, after the congregation learned that rats had destroyed all of her furniture at People Self Storage on Salem Road in Covington.
Lovelace put her furniture in storage for six month after losing her home when her hours were cut at UPS, where she worked. When she got back on her feet, she found that her furniture was ruined while in storage.
Three days before Christmas, congregation members at the church's Stone Mountain and Conyers campuses showered Lovelace with an abundance of donations and offers to help her set up her two-bedroom apartment. A long line formed during all three of the church's worship services.
"This is a woman who has been very faithful. She never stop coming to church and praising the Lord, in spite of all that she was going through. She never complained. She stayed focus. She's a very private person and did not want to come up," said Bishop Gary Hawkins, Sr., founder of Voices of Faith. "I want you all to bless her, help her in any way that you can."
Bishop Hawkins said Lovelace's plight came to his attention after CBS46did a news story on Lovelace. Lovelace told CBS46 when she reported to storage management that her furniture had been destroyed, she ran into a dead end.
"I advised him that my storage unit was full of rat feces and urine, and he stated they have had a rat problem, and they had Orkin out for more than five years, and they were aware of the situation," Lovelace told CBS46.
Lovelace said the manager said, however, since she did not include insurance coverage on her contract, there wasn't anything they could do about her furniture.
Bishop Hawkins said God is bigger.