Testingfg of Ads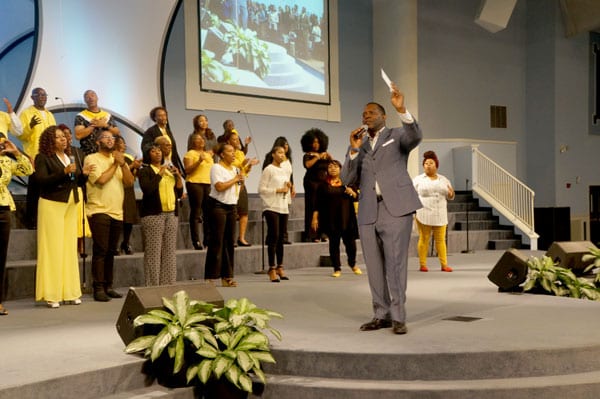 Voices of Faith Ministries kicked off its Founder's Day Celebration with an Empowerment Night, which was held on Wednesday, Oct.17, at its Stone Mountain campus.
The Voices of Faith choir led the celebration, ushering in the Holy Spirit with songs of praise and worship.
Dr. Manuel Scott, Jr. of Los Angeles, California served as the guest pastor, bringing a powerful message entitled "Our God is Bigger."
Bishop Hawkins said having his congregation hear Dr. Scott speak at Voices of Faith was a wonderful anniversary present. He said years ago, when he lived in California, he worshipped at Dr. Scott's church. The nationally-known evangelist has conducted well over 1,100 revivals and crusades and through his ministering some 20,000 people have come to the Lord.
"Dr. Scott is an awesome man of God," Bishop Hawkins told the congregation.
Dr. Scott presented Bishop Gary Hawkins, Sr., founder of Voices of Faith, with a gift in honor of his pastoral anniversary. This year marks Bishop Hawkins 24th year as pastor of Voices of Faith.