Testingfg of Ads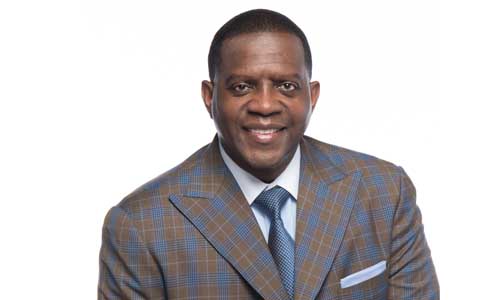 Voices of Faith Ministries, founded by Bishop Gary Hawkins, Sr.,  is celebrating its 25th anniversary this month.  The church, which has campuses in Stone Mountain and Conyers, is planning to kick off the milestone anniversary with a Founders Day Gala honoring Bishop Hawkins and his wife, Lady Pamela Hawkins, on Saturday, Oct. 19, 7 p.m. at the Hyatt Regency Atlanta.
On Sunday, Oct. 20, the Voices of Faith Reunion Choir will minister in song. Pastor Brandon Buckley of Voices of Faith's Baton Rouge, LA, will preach the 8 a.m. worship service in Stone Mountain and Pastor James T. Murkison of Voices of Faith South in Hampton will preach the 11:30 a.m. worship service in Stone Mountain.  Pastor Carlos Marshall of Voices of Faith East in Lawrenceville will preach the 9:30 a.m. worship service in Conyers.
Bishop Hawkins said he is praising God for the church's celebration and he is looking forward to all who will join the congregation for the weekend events.
"What a tremendous impact Voices of Faith has had on the kingdom over the past 25 years. We have seen over 20,000 people give their lives to Christ. We witnessed thousands of members grow in their faith and love towards God. We have built relationships that will last eternally," said Bishop Hawkins. We have watched babies' birthed in the ministry, graduate college, and return with children of their own. We have raise up doctors, lawyers, entrepreneurs, and other professionals, who have reached million-dollar status. We have seen miracles and breakthroughs. We have seen God heal the sick, give hearing to the deaf, and babies born after the doctors said they could not have children. We have witnessed great saints die and go on to be with God. We have watched sinners change abruptly and give their life to Christ. We have experienced the highs and lows of ministry, never taking our eyes off God."
It is that unwavering faith and love for God that remains the bedrock of Bishop Hawkins' ministry, one that has been recognized by Church Growthmagazine as the twenty-fifth fastest-growing church in America with xxx members at its peak.
Voices of Faith Baptist Church was birthed on Aug. 21, 1994, holding its  first service at the Greater Life Baptist Church in Decatur.  After two services, Voices moved to Browns Mill Recreation Center in what was then unincorporated Lithonia.
Every Sunday, Bishop Hawkins would have his brother, Deacon Aaron Hawkins, and a few other volunteers set up the Browns Mill Recreation Center with 100 chairs in preparation for worship service.
"Why do we keep placing so many chairs with only a few in attendance?" Aaron asked one morning.
Bishop Hawkins responded "These chairs are not for those that are here, but for those that God will be sending. Therefore, place as many chairs as you can fit."
Pastor Hawkins would then preach with all of his might to a handful of faithful worshippers. He never let go of the vision that God gave him or his faith that the church would grow.
In July 16, 1995 Rockbridge Road Baptist Church in Stone Mountain opened its doors to Voices of Faith where the congregation worshiped until Oct. 21, 1997.  The congregation then moved to Stephenson Middle School in Stone Mountain, where it worshipped for two years before purchasing the 20-acre tract at 2500 Rockbridge Road S.W., where its Stone Mountain campus is currently located.
The "City of Faith" launched its Rockdale County location on July 18, 2004 with 90 people who attended the first service at Rockdale High School. In December 2006 VOF successfully completed construction of its campus in Conyers. The dedication ceremony was held Feb. 18, 2007.
Today, Bishop Hawkins preaches three worship services on Sundays: The Stone Mountain campus has worship services at 8 a.m. and 11:30 a.m., while the Conyers campus has worship service at 9:30 a.m.
Bishop Hawkins is overseer of five Voices of Faith locations – Stone Mountain, Conyers, Hampton, and Lawrenceville, Georgia and one location in Baton Rouge, Louisiana.
Bishop Hawkins said he has faith that God will continue to bless Voices of Faith and stretch its members to a new level as they spread the gospel.
Said Bishop Hawkins:
"Voices of Faith, our future is bright. The hand of God will continue to rest upon us. God is stretching us from faith to faith. Even though we have accomplished incredible things the last 25 years, the best is yet to come. Over the next 25 years, the favor of God will increase on our church and its members.
"Thank you for 25 incredible years of serving in ministry with me. Thank you for keeping me grounded and accountable. Thank you for being patient with me as I navigated through the uncertainties of ministry until God showed me the way. Thank you for being such an amazing loving church that through my ups and downs you stayed and trusted the God in me to lead you and your families to greener pastures. Voices of Faith, our future is bright. How do I know? Because I have you walking beside me in ministry, battle tested, and equipped with the whole armor of God. The next 25 years in ministry here at Voices of Faith is filled with blessings, miracles, breakthroughs and life changing testimonies. Let's embrace our incredible future now!"