Testingfg of Ads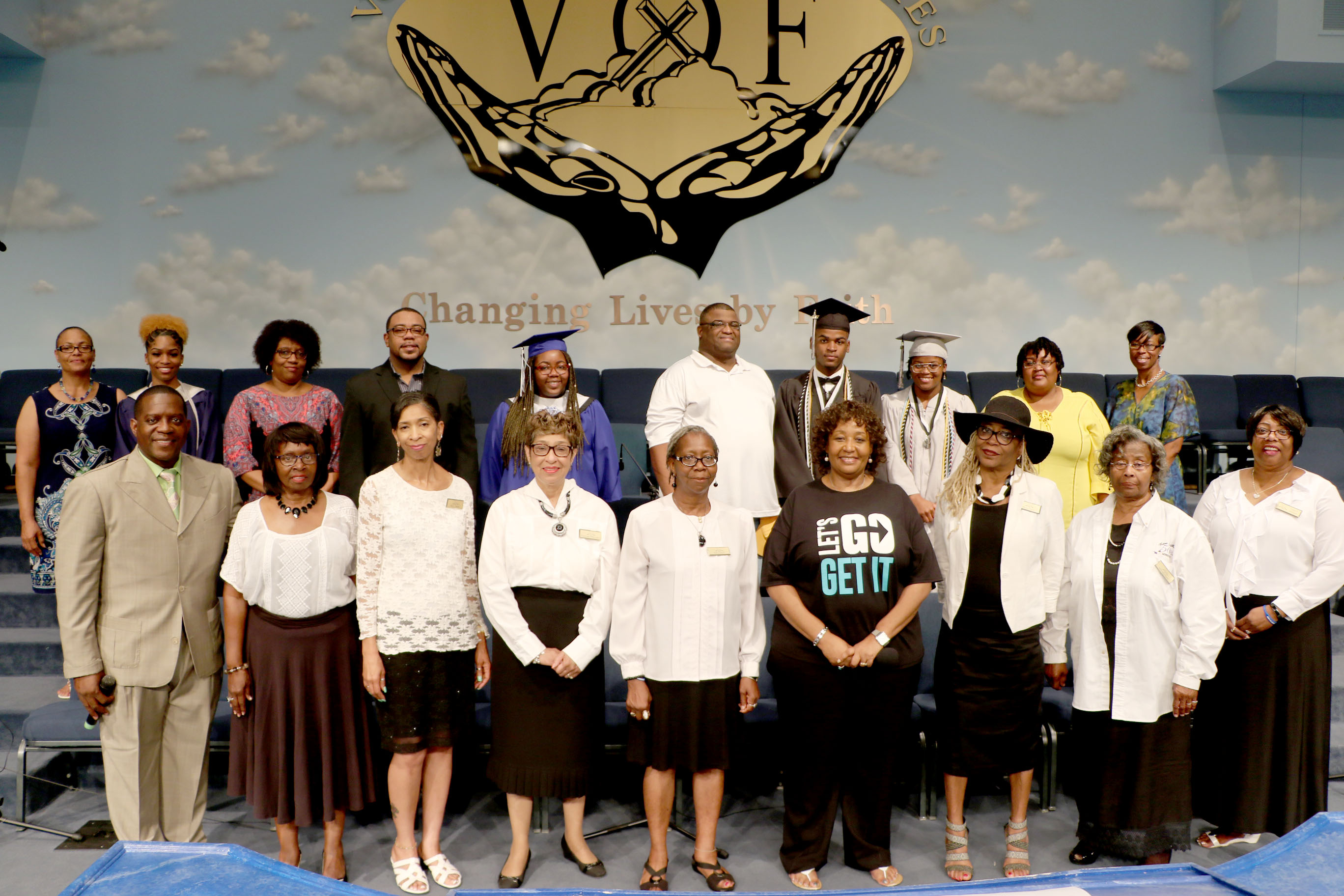 The 50+ Ministry at Voices of Faith honored six high school graduates at its scholarship awards on July 23. The ministry, comprised of seniors who are ages 50 and older, hosts fundraisers annually to award the scholarships, said Elder Debra Higgins, who coordinated the program, along with Linda Williams-Sanchez, 50+ Ministry president.
"It's our way of giving back and rewarding and encouraging our youths," said Elder Debra Higgins, who coordinates the scholarship program. "These students have excelled in high school with honors. Their achievements include extra-curricular activities in school, the community and VOF. They have membership in various organizations and have racked up volunteer hours. These are our leaders of tomorrow."
The following students were honored this year:
David Isaiah Copeland, a South Gwinnett High School graduate, is attending Jackson State University in Jackson, MS, where he is majoring in computer engineering. He aspires to become a Major in the U.S. Army. Copeland is active in VOF's Youth Ministry. His mother, Toshua Hayward, accepted his scholarship on his behalf because he has already started college.
Dominique Rachelle Jackson, a South Gwinnett High School graduate, is attending Kennesaw State University, where she plans to major in finance/business administration. Jackson aspires to become a stockbroker or establish a foundation to provide children with school materials and clothing needed for school. She is active in VOF's Youth Ministry. She is the daughter of Reggie and Stacey Jackson.
Imani Minor, a graduate of Shiloh High School in Gwinnett County, is attending Northwestern University in Chicago this fall. She plans to major in neuroscience and explore a cure for Alzheimer's Disease by using music. She is active with the church's Merge Youth Ministry. Her twin brother, I'Endai Shakeel Minor, who is also a Shiloh High graduate, is attending Alabama A&M University in Huntsville, AL. He plans to major in music and aspires to be a top-ranked band director in high school or college. He is a member of the VOF's Youth Ministry and Youth Executive Council. The twins' parents are Sean and Nicole Minor.
Darnesha Nicole Mitchell, a graduate of DeKalb County's Stephenson High School, is attending the University of West Georgia in Carrollton, GA. Mitchell aspires to own the No. 1 advertising company in the restaurant and business world. She is volunteers at the church's bookstore, hospitality ministry, Shepherd's Care and Daughters of Faith. Her parents are Elder Wade and Deaconess Jacqueline Mitchell.
Zevney Sylk Palmer, a South Gwinnett High School graduate, is attending Albany State University in Albany, GA, where she is majoring in chemistry. She aspires to become a Lieutenant Colonel in the U.S. Army, traveling the world, and to become a Certified Forensic Chemist to identify criminals by using the laws of chemistry. Palmer is a member of the Praise Dance Ministry. She is the daughter of Angela Powell.
The 50+ Ministry is hosting a masquerade ball on Saturday, Sept. 16, 4 to 8 p.m. at Bethesda Park Center, Lawrenceville. Tickets are $25 per person. For more information, call VOF at 770-498-5850.