Testingfg of Ads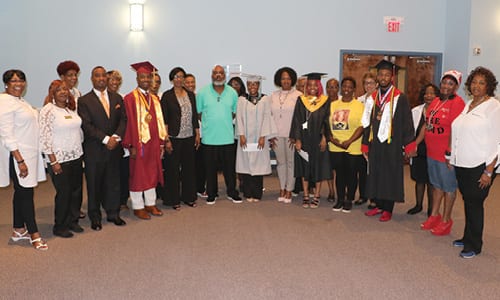 Four high school graduates will start their freshman year with scholarships provided by the Voices of Faith Church's 50+ Ministry. Each student received a $500 scholarship from the seniors' ministry, which held fundraisers to provide the awards. 
Voices of Faith, which has a campus in Conyers and Stone Mountain, is under the leadership of Bishop Gary Hawkins, Sr.
The following students were selected after completing an application and essay:     
Kayla Beal  (Daughters of Faith & the Youth Ministry)
Parent: Naomi Beal
Alcovy High School
Georgia State University- Atlanta, Georgia
Major: Nursing,     Minor: Nutrition
"I aspire to be a successful and renowned pediatrician achieving this through Faith, Prayer and yes… to "Go Big"'
Barron Mann   (MERGE Youth Ministry & the Drama Ministry)
Parent: Cassandra Thornton
Rockdale High School
Shorter University, Rome, GA
Major: Marketing,  Minor: Business Admin
"I aspire to be a professional Fighter as well as a Sports Agent in the UFC or NFL by using the talents God gave me in Communication and Athleticism."
Krissia Simmons  (VOF Faith Angels Praise Dancer)
Parents: Deacon Damian & Deaconess Trina Simmons
Shiloh High School
Kennesaw State University,  Kennesaw, Georgia
Major:  Early Childhood Education.  Minor: African American Studies
"I aspire to leave my legacy thru educating a new generation of self-driven students, study abroad, learn different languages, and educate on the history of the world. God has implanted in me a vision and a passion in my heart to advance the future of this world, and I know that with his guidance and love, I will achieve my dream."
Christopher Smith  (Courtesy Guild, Book Store Ministry)
Parents: Archie and Solina Smith
Brookwood High School
Georgia State University, Atlanta
Major: Business Administration.  Minor: Spanish
"I plan to GO BIG in my future career by becoming a CEO of a Fortune 500 company. I will then become an Entrepreneur, start my own Non-Profit Organization and mentoring minority students in entrepreneurship." 
Elder Debra Higgins served as scholarship chairperson and Linda  Williams-Sanchez is President of the VOF 50+ Ministry.