Testingfg of Ads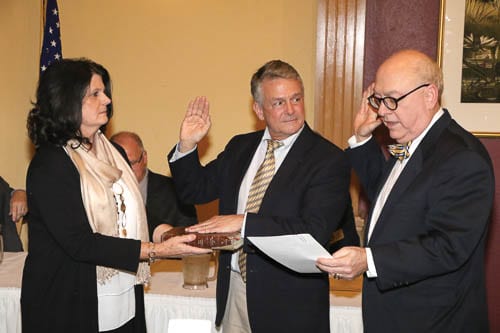 Vince Evans was sworn in as the City of Conyers' new mayor on Jan. 10 before a packed audience that included his 90-year-old father-in-law at the Cherokee Run Golf Club in Conyers.
Chief Superior Court Judge David Irwin administered the oath of office to Evans, as well as councilmembers Cleveland Stroud, who was re-elected, and the newly-elected Blair Barksdale.
Evans is the city's first new mayor in 20 years, succeeding Randy Mills, who served two decades as mayor and 8 years on the City Council. Evans served with Mills 18 years on the City Council, including 8 years as mayor pro tem.
An overjoyed Evans thanked his wife, Cyndi, for her support during his campaign for mayor. He said members of his team knocked on 8,000 doors, with his wife always ready to help.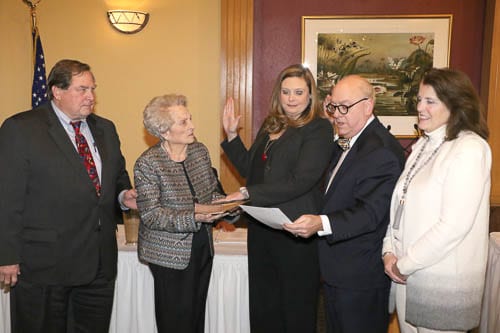 "Her support and patience has been unending since this whole thing started," said Evans, adding that he plans to take his wife on a getaway.
During his remarks, he also said he is looking forward to continuing his work with Stroud, who has served on the council since 1994, and Barksdale to provide a blend of experience and new perspective.
The swearing-in ceremony was followed by several awards and recognition to community leaders and the Mayor's Annual State of the City Address.
Evans pledged, during the address, to make crime, economic development and transportation his top priorities. He said citizens cited those as their chief concerns as he campaigned throughout the city.
Evans said he plans to devote more resources to public safety, including officer training, hiring and seeking grants to enhance the Police Department as officers tackle growing problems ranging from family violence to Opiate use.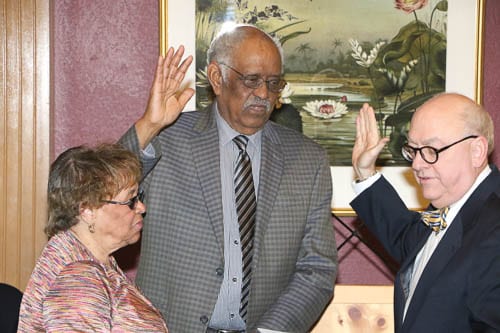 In terms of economic development, Evans said he is looking forward to working closely with the Conyers Rockdale Economic Development Council to encourage expansion of existing businesses and attracting new companies throughout the city.
"We are excited about the new possibilities in Olde Town with the coming of a wine shop, a new restaurant and a fresh look at Downtown…" Evans said.
He said transportation isn't an easy fix but he would continue to use SPLOST funding to improve thoroughfares. He said he would continue to cultivate relationships with county and state legislators  to ensure Conyers receives "our fair" for projects.
He also promised to be transparent and engage citizens during his administration, and to create "a more inclusive environment."
"I will be hosting meetings on a regular basis at the mayor's office with representatives of all areas of our communities including faith-based, business, homeowners associations,  individuals, and pretty much anybody who wants their voice heard," said Evans.
He said maintaining relationships with Rockdale County government and the Rockdale County School Board are also critical and he looks forward to all of them attending the city's upcoming annual retreat.
"Obviously by working together all of the citizens of Conyers and Rockdale county benefit more," Evans.
To view the swearing in video visit ocgnews.com