Testingfg of Ads
Vigil held for Decatur High grad Kennedy Sears
By Travis Hudgons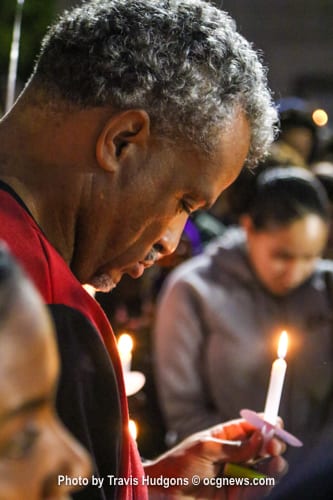 The Decatur High School community mourned the loss of one of its bright stars. 
Hundreds turned out on the evening of Oct. 24 for a candlelight prayer vigil at Decatur High School for 18-year-old graduate Kennedy Segars. She was killed in a DUI-related crash earlier this month. 
The emotional gathering included remarks from friends and family members, prayer and singing. The Decatur High School cheerleaders performed a special cheer for Segars, who was on the cheer squad while at Decatur.
"She was very special. She wasn't average," said Kennedy's father, Marvin Segars. "She's going to be missed. I love her so much.  I want to thank the Decatur High School for treating her like family." 
Kennedy Segars, who had entered her freshman year at Alabama State University, was in town visiting her family when the crash occurred on Oct. 13. She died from her injuries after her vehicle was rear-ended by a man traveling over 70 mph at the intersection of Klondike Road and Mall Parkway near The Mall at Stonecrest.   
The driver, 52-year-old Reginald Stubbs, faces four charges including first-degree vehicular homicide, DUI, serious injury by vehicle and following too closely. 
Segars left behind many people who cared deeply for her. At the vigil, she was described as a leader, energetic and compassionate by those who knew her.
"I can't put my mind around how something like this could happen to such a great young woman," said Decatur High Principal Arlethea Williams. "Every time I think about her my heart breaks."
Williams, like others in attendance, shared fond memories of Kennedy. 
After the on-field activities at Decatur High's football stadium, the somber group gathered off the field to light candles, release balloons and remember the young lady taken too soon.
Funeral services are scheduled for Oct. 26, 11 a.m., at Springfield Baptist Church, 1877 Iris Drive, SE, Conyers.