Testingfg of Ads
Rockdale Constitutional Corner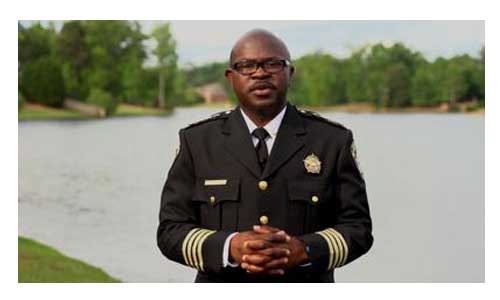 By Sheriff Eric J. Levett
Rockdale County Sheriff's Office would like to take this time to remind drivers to winterize their vehicles and follow safe driving tips in preparation for inclement weather. Winter weather can catch all of us off guard, but you can reduce the risks of being involved in a crash by making sure your vehicle is ready for the season, adopting winter driving techniques and following general roadway safety tips.
Last winter, there were 250 crashes on snow, ice or slush covered roads in Rockdale County. Speed-related factors were reported as a causative factor in 20 percent of all accidents, according to the Georgia Electronic Accident Reporting System (GEARS). If you're not prepared, don't drive. When drivers don't take the proper precautions, they create hazardous conditions for other driver and pedestrians. In prior years, drivers have left their cars blocking roads and freeways, creating unsafe road conditions for other travelers. These obstructions also make it difficult for the first responders to travel some streets and answer emergencies.
I would also like to remind drivers to supply their vehicles with a winter car kit including: an ice scraper, shovel, jumper cables, flashlight, warning devices, blankets, cell phone charger, first aid kit, tow rope, water and food for longer trips. It's also important to ensure your tires have plenty of tread, check your battery and keep your windshield washer reservoir full.
If you're driving on snowy or icy roads:
Slow down. Even if you have all-wheel drive, reduce your speed about 10 miles per hour below the speed limit. If it still feels iffy, cut back another five miles per hour until you're comfortable.
Beware of black ice. It's nearly impossible to see this crystal-clear glaze, but you can spot it when your headlights reflect off the road at night. It tends to form on bridges, which trap the cold; in the shadows of tall buildings, where the sun can't hit it; and at intersections, due to drains. That's why, in bad weather, you should slow down a couple of hundred feet before stop signs and lights.
Avoid tailgating. On the highway, leave about 100 yards (about the length of a football field) between you and the car ahead of you to give you plenty of room to stop in case that person brakes suddenly. Still, it's close enough to use his headlights to see what's up ahead.
Don't brake during a turn. To avoid a spin-out, gradually start turning the steering wheel and feathering the brakes lightly before the curve. Then coast through the turn with your foot off the brake and off the gas, so as not to gain speed. When you have your foot on the brake, the wheels stop turning. That's when the car loses control and goes in any direction that momentum decides to take it, like a toboggan.
Turn into a skid. Remain calm, take your foot off the brake and the gas pedals, and turn the car in the direction the car is skidding. For example, if you're sliding to the left, gently turn the steering wheel to the left. This cancels out the skid. The car corrects itself and goes straight. If all else fails and you have the option to do so safely, leave the road and drive the car into a snow bank. 
My best advice is to "stay off the road" and "not to make unnecessary journeys." Your safety is our first priority.