Testingfg of Ads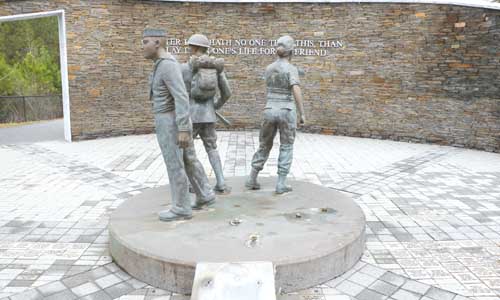 Rockdale Sheriff Eric Levett: "We will find you."
By Valerie J. Morgan
Rockdale County Sheriff Eric J. Levett has three words for the thieves who vandalized the Walk of Heroes Veterans War Memorial and stole two heavy, bronze statues and military emblems: "We will find you."
The memorial was vandalized over the weekend of Dec. 15 after the Rockdale park, located at 3001 Black Shoals Road N.E., closed. Thieves stole two statues that were part of a group of five soldiers, an 800-pound bronze globe and several military emblems. An attendant at the park discovered the break-in on Sunday, Dec. 17, and called police.
Investigators said thieves broke through a gate to pull off the heist. Surveillance cameras captured images of a vehicle believed to be a 1995-2000 Toyota Tacoma, towing a trailer with wood floors and railings. The truck has an extended cab with a lift and all-terrain tires. Investigators said multiple suspects were likely involved due to the weight of the items stolen.
The memorial park, located at 3001 Black Shoals Road N.E. in Rockdale, is considered one of Rockdale's jewels, visited not only by local residents but by people from around the world.
"This is a dishonorable and disheartening act for what we stand for in America," Sheriff Levett said. "Someone trying to tarnish and destroy the place where we recognize our country's heroes will not be tolerated. We will find you."
Congressman Hank Johnson, who has attended several events at the memorial, said he would assist authorities in any way possible.
"This is an affront not just to Conyers and Rockdale County, but to all veterans and their families in Georgia and the nation who have sacrificed on our behalf," said Johnson. "I stand ready to help local authorities in any way I can to help resolve this egregious crime and return the missing statues to their rightful place at the Walk of Heroes."
The desecration has angered the public with many people speculating the statues and emblems may be melted down for cash. Several people posted comments on Facebook peppered with profanity to express their outrage and disgust .
Rockdale Board of Commissioners Chairman Oz Nesbitt, Sr. called the theft one of the most "unpatriotic" acts he has ever witnessed.
"It is disappointing, disheartening, and totally disrespectful," said Nesbitt. "This is a jolt right through the heart of so many of our men and women who have served and who are actively serving and to the countless number of citizens who have contributed to the Walk of Heroes and making this park the memorial that all of Rockdale County is proud of."
The memorial honors the sacrifices made by veterans since the 20th century. Tommy Clack, who chairs the Memorial Board, has led fundraising efforts for the various phases of the memorial park.
Billy Corey of U.S. Enterprises Inc. is offering a a cash reward of $5,000 to anyone who provides information leading to an arrest of the suspects. Information about the case should be reported to Sheriff's Corporal Jeremy Best at 770-278-8160. Anonymous tips also can be submitted through Crime Stoppers Greater Atlanta at 404-577-TIPS (8477).