Testingfg of Ads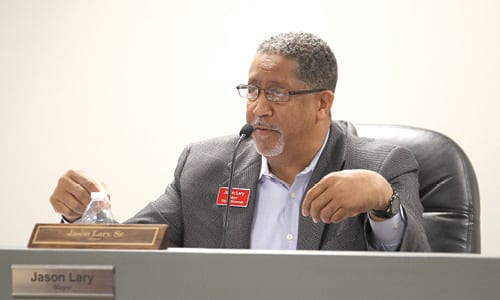 By Valerie J. Morgan
Gov. Nathan Deal has vetoed HB 600, which proposed term limits for the office of mayor in the city of Stonecrest while permitting council members to serve for an unlimited number of terms. Additionally, the bill would have prevented the mayor from voting with the City Council, except to break a tie. 
The governor said he vetoed HB 600 because there was no consensus among the DeKalb County Delegation members who represent the city of Stonecrest. One of the delegation members, State Rep. Earnest "Coach" Williams, did not sign off on the bill. 
"These amendments to a city charter that has been in effect for less than two years have not, apparently, received the proper amount of discussion during the legislative session as legislators from the delegation could not reach a consensus. For this reason, I VETO HB 600," Deal said in a news release.
The mayor would have only been able to serve two terms, but council members would have been allowed to serve unlimited four-year terms under HB 600. Both positions will continue to be able to serve unlimited four-year terms under the city's existing charter.    
  Adrion Bell, the city of Stonecrest's communications director, praised the veto, which came on May 8 as the city turned one year old. He said the bill would have unfairly punished the officer of the mayor.   
"It would have caused an imbalance of power on the council. I don't know of any governor or mayor who has neither a vote nor a veto," said Bell.    
Mayor Jason Lary was delighted with the veto.  
"I am pleased that the governor saw that this bill would have made governing ineffective for the office of the mayor.  HB 600 would have taken us backward instead of forward.  Thank you, Governor Deal," Lary said. 
State Rep. Doreen Carter, District 92, introduced the bill in March 2017. The bill initially included revising the city's voting districts, along with term limits for the mayor and modifying provisions related to a quorum on the City Council. Amendments were made as the bill moved from the House to the Senate last year and it gained bi-partisan support this year with those amendments.
Carter said despite the governor's rejection of the bill, she believes it could have offered a resolve for some of the issues with the tie votes that have occurred recently with the City Council. 
"They have no way to break a tie the way it stands right now," said Carter. "That's why most voting organizations have odd numbers—whether it's a board or a city. That was the whole reason for proposing the bill in the first place."   
Attorney Bernie Knight, who has worked closely with the formation of the new city, applauded the governor's decision. 
"The veto of this ill-considered bill was vital to the future of Stonecrest. We offer heartfelt thanks to the Governor," Knight said.
Mayor Pro Tem George Turner agreed.
 "I think the bill was overly aggressive by the persons who authored it before we could even get the city going," Turner said in a statement released by the city.  "What hurt the bill was that they were so anxious to limit the term of the mayor that they went overboard and tried to limit the mayor's power.  I think the issues of this bill can be handled by the city council who is capable of making our own legislation.  In essence, Governor Deal is letting Stonecrest take care of Stonecrest's business and I am glad that he did."