Testingfg of Ads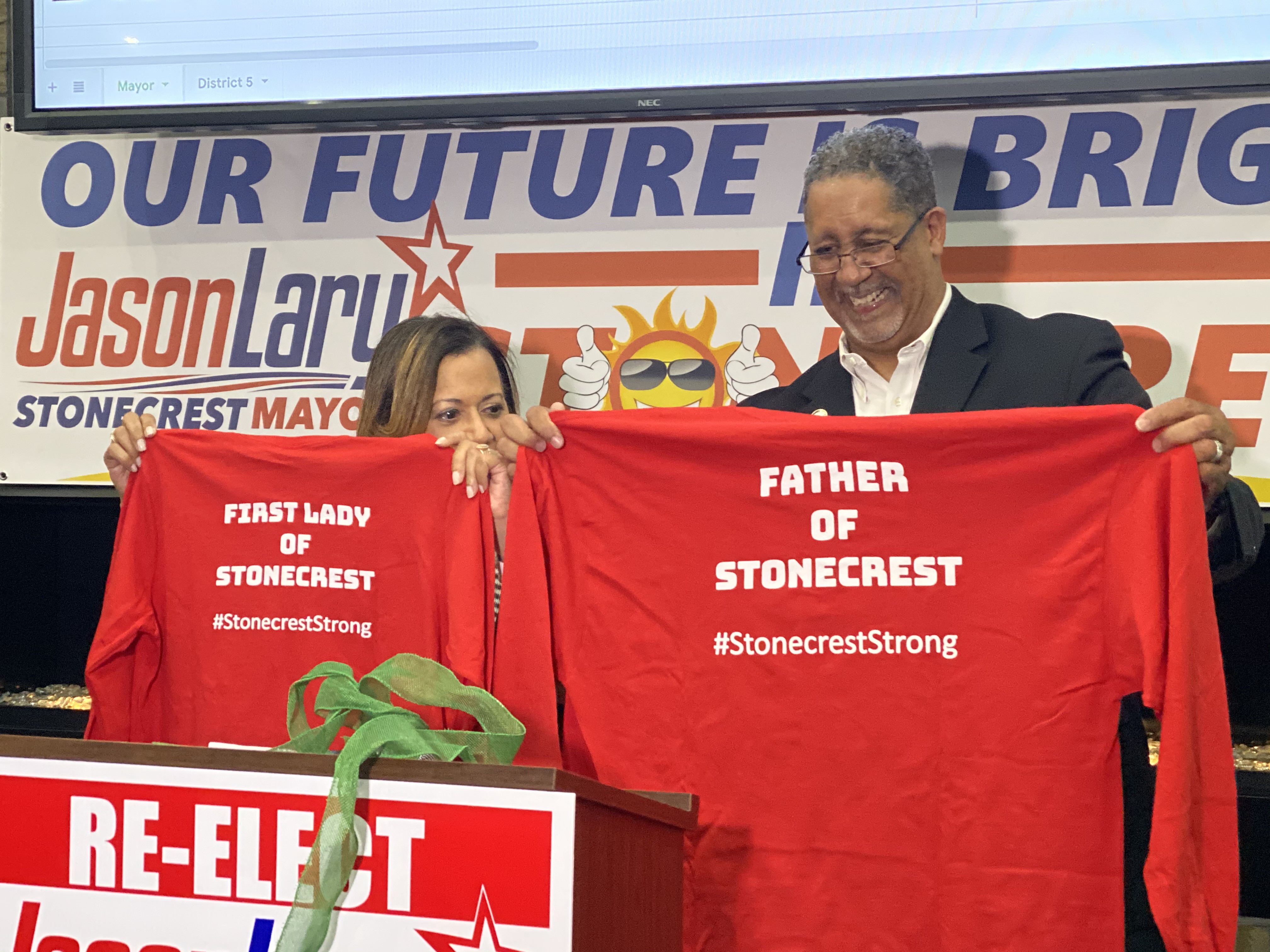 Mayor Jason Lary and wife Debbie Lary
Big Victory Stonecrest Mayor Jason Lary re-elected to second term
Stonecrest Mayor Jason Lary scored the winning touchdown on Nov. 5 in his bid for re-election, soundly defeating Charles Hill, II and Diane Adoma in the city's three-way mayoral race.
Lary won a four-year term with 3,049 votes (55.48 percent), while Hill placed second with 1,294 votes (23.54 percent). Diane Adoma came in third place with 1,131 votes (20.58 percent), early results showed.About 13.6 percent of the city's 40,678 registered voters participated in the districtwide mayoral election, according to officials.
Lary dominated the playing field, leading the votes at four of the city's 17 precincts:
The Browns Mill precinct posted that Lary received 137 votes; Hill, 60; and Adoma, 54.
The Candler Murphey precinct posted Lary had 267 votes; Hill had 125; and Adoma had 81.
The New Birth Missionary Baptist Church precinct posted Lary garnered 162 votes; Hill had 107; and Adoma had 83.
The Snapfinger precinct posted Lary had 115; Hill had 45; and Adoma had 30 votes.
This year's election was not the first showdown between Lary and Hill. In 2017, Lary defeated Hill in a contentious battle for the new city's inaugural mayoral position.
Lary put the past behind, however, as he thanked his campaign team, supporters and voters at his victory party, which was held at the AEI Startup Factory on election night. Lary invited Adoma and Hill to join him in building up the city. Lary worked four years to bring the cityhood referendum to voters and is considered the father of the City of Stonecrest.
"I want to give them a personal invitation to come back and work with the city," said Lary, who touted the city's bold economic development initiatives underway: $700 million in commercial development; $200 million in industrial development; and $100 million in residential development.
"That's 1 billion in infrastructure and economic development that we will have within 5 years," said Lary.
On Oct. 23, the City Council approved spending $2.995 million for the purchase of the former Sam's Club building that will become the new City Center, housing the new City Hall.  The city also approved the $2.1 million purchase of the former Sears building at The Mall at Stonecrest on Oct. 3. The city plans to use the building for a public safety headquarters, Lary said.
Lary told supporters at his victory party that he is looking forward to continue building up the city during the next four years. He thanked his campaign team, supporters, voters and his wife, Debbie, for making that opportunity possible.
"Working with this team of people was unbelievable…,"  Lary said. "…The future is bright at Stonecrest. I really mean this,"
Stonecrest voters are still waiting to learn who will be elected to serve as the next District 5 City Councilmember.  Tammy Grimes appeared headed for a runoff with Dave Marcus since no one in the six-way City Council race received more than 50 percent of the vote as required.   The special election was held to fill the unexpired term of former Councilwoman Diane Adoma.
Grimes, a veteran educator who is an Instructional Support Specialist for DeKalb County Schools, received 698 votes (45.38 percent), while Marcus,a retired strategic planner and financial analyst,received 256 votes (16.64 percent). Barbara Hall placed third with 250 votes (16.25 percent).
Voters will learn who will be in the runoff after the DeKalb County Board of Elections certifies election results on Nov. 15. The runoff will be held on Dec. 3, officials said.