Testingfg of Ads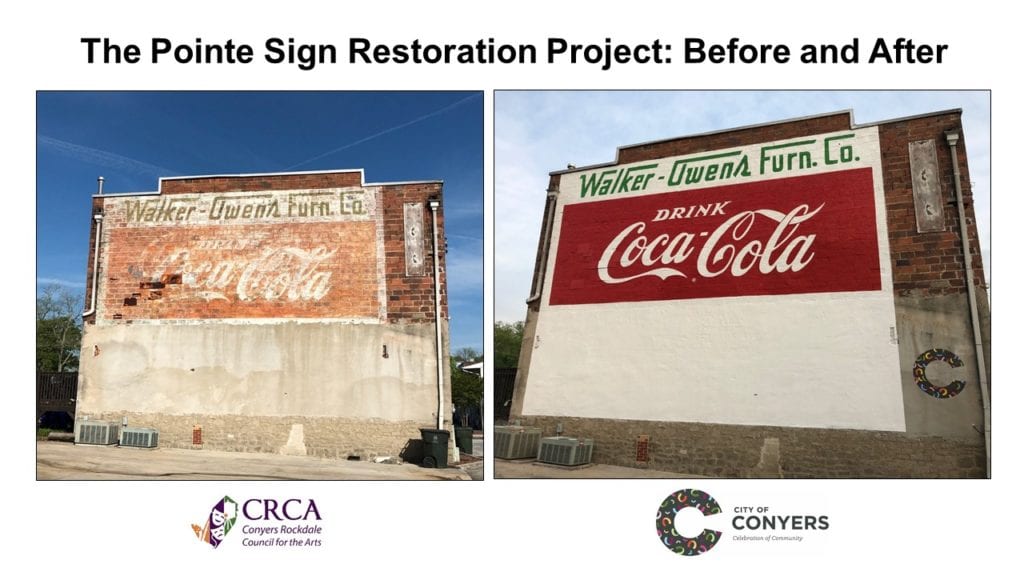 The Conyers-Rockdale Council for the Arts, in partnership with the city of Conyers, secured the talents of students in the University of Georgia's(UGA) Lamar Dodd School of Art's "Color the World Bright" program to restore vintage signs on the building at 939 Railroad Street in historic Olde Town Conyers.
The Pointe, built in 1925, was formerly a locally-owned furniture warehouse, a mill owned by the Georgia Railroad, an antiques store, and has been the home of the bar/tavern, The Pointe, since 2007. Three sides of the building's exterior feature Coca-Cola advertisements along with Walker-Owens Furniture signage, the name of the former furniture warehouse. Students of Professor Joseph Norman restored the "ghost signs" after previously completing similar projects in Madison and Greensboro, Georgia. The restoration of the exterior signs took place the weekend of April 27-28.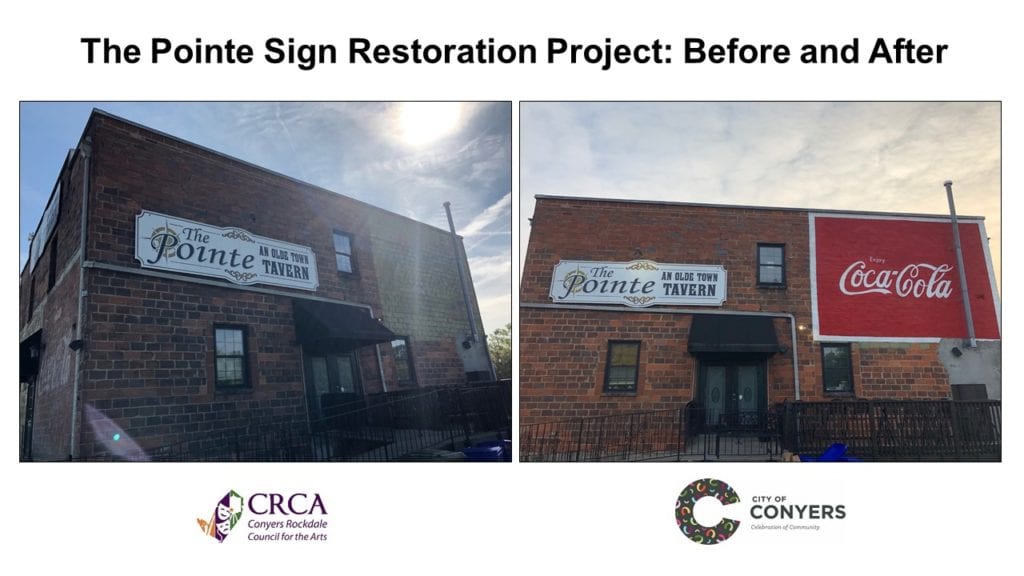 "We are thrilled to collaborate with the city and the Dodd art students to restore these iconic signs on such a signature, landmark building in Olde Town Conyers," said Conyers-Rockdale Council for the Arts Executive Director Shelli Siebert. "The Coca-Cola logo is so distinctive and many may not know that Conyers was once home to a Coca-Cola bottling facility, so we are quite fortunate to have this opportunity to restore signage that speaks to our community's history."
Siebert was instrumental in coordinating with several businesses and organizations to donate in-kind goods and services to bring the project to fruition including: Premier Platforms, Fieldstone Center, Inc., Cowan ACE Hardware (Green Street location), the Rockdale County Fire Department, the Conyers-Rockdale Chamber of Commerce, and Microtel Conyers.
"Art is a vital part of any community's downtown and this restoration project demonstrates that Conyers supports the arts and the story it tells of our past, present and future to residents and visitors," said Mayor Vince Evans. "This was a fun project and partnership with the UGA School of Art that will impact Olde Town Conyers for some time as this landmark building has been brought back to life in a vibrant way."