Testingfg of Ads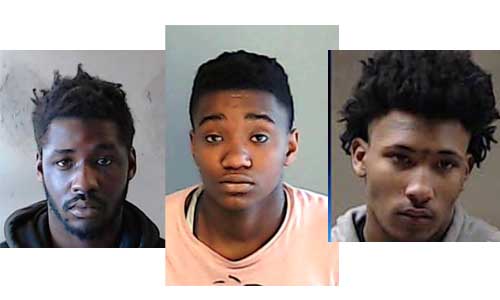 Joshua Bryant, Tiffany Swanson, Aaron Johnson
The DeKalb County Sheriff's Office has arrested all three suspects wanted in connection with the Dec. 5 beating and carjacking of 74-year-old Rosa Smith.
Joshua Bryant, 20, of Atlanta, and Tiffany Swanson, 19, of Statesboro—were arrested on Dec. 19 and booked into the DeKalb County Jail. The first suspect, Aaron Johnson, 17, of Atlanta surrendered to police and has been in custody at the DeKalb County Jail since Dec. 11 on robbery and elder abuse charges.
The DeKalb County Sheriff's Office Fugitive Unit, working with U.S. Marshals and Atlanta Police Department arrested Bryant and Swanson  on Cedar Avenue in Atlanta.
DeKalb County's new sheriff, Melody Maddox, issued a warning to others who have crime on their minds:
"If you think that you are going to intimidate the citizens of DeKalb County, especially our most vulnerable ones, which is our youth and our seniors, we will pull out all of our resources to make sure you are taken into custody," Maddox said during a news conference where the arrests were announced after the arrests.
According to authorities, Smith was trying to vacuum her Nissan Rogue outside a gas station on Gresham Road in Decatur when the violent carjacking took place. Smith, a retired attorney, was taken to the hospital after being beaten. Authorities said although she suffered no broken bones, she was left with gashes and bruises on her forehead, mouth and cheeks. She also complained of pain in her hips from the attack.
The suspects drove off in Smith'scar with her terrier mix, Daphne, still inside, police said. The dog was later found wandering in a southwest Atlanta road and returned to Smith's family.
The widely-publicized attack prompted authorities to seek public assistance and police learned that one of the suspects(Swanson) was a female.
Bryant and Swanson were both charged with aggravated battery, robbery by force and elder abuse.
Bryant and Swanson were taken into custody without incident and transported to the DeKalb County Jail.