Testingfg of Ads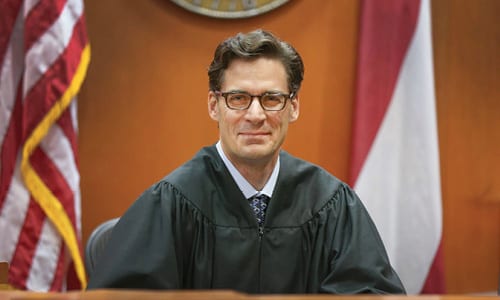 President Donald Trump has announced his plans to nominate DeKalb County Superior Court Judge J.P. Boulee to fill a vacancy on the U.S. District Court for the Northern District of Georgia in Atlanta.
Trump made the announcement on Aug.  27.
Boulee has received praise for the nomination to the lifetime appointment from colleagues and others in the community who say he is compassionate, fair and a man of integrity.
Both of Georgia's Republican senators, Johnny Isakson and David Perdue, have applauded Boulee's nomination. If confirmed by the U.S. Senate, Boulee would replace Bill Duffey, who retired as a federal judge on July 1.
"There is no better judge in DeKalb. He is a people's judge. He cares about the people.  Judge Boulee is always out in the community, attending various meetings," said Ceasar Gaiters, a South DeKalb businessman who honored Judge Boulee with a 2018 Trailblazer Award for his work with veterans. Gaiters, who served as president of the South DeKalb Rotary Club,  also applauds Boulee's service as a member of the Midtown Rotary Club.
Teresa Hardy, president of the DeKalb NAACP, also commended Boulee's nomination.
 "He's been fair and very active in the community. His support of veterans connected him to the DeKalb NAACP," said Hardy, acknowledging it will be tough seeing Boulee leave the bench in DeKalb.  
 Earlier this month, Boulee issued a ruling that DeKalb police officer Robert Olsen must stand trial for fatally shooting Air Force veteran Anthony Hill, who was unarmed and naked when Olsen approached him   outside a Chamblee apartment complex in March 2015. With President Trump's nomination, however, Boulee may be unable to continue presiding over the high profile case. 
Gov. Nathan Deal appointed Boulee to the DeKalb County Superior Court in 2015.  Boulee started a veterans' court to provide counseling and treatment to military men and women who have been arrested. Boulee, a veteran, served four years in the U.S. Army's Judge Advocate General Corps. He was in private practice with Jones Day before Deal's appointment.
Boulee earned his B.A. degree from Washington and Lee University, where he graduated magna cum laude. He received his J.D., cum laude, from the University of Georgia School of Law.