Testingfg of Ads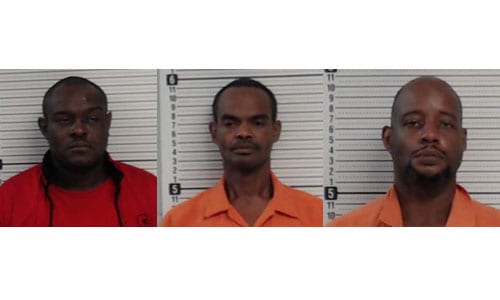 Three men suspected in multiple thefts in metro Atlanta are now in custody after targeting Home Depot in Conyers for high-end lawnmowers.
Rockdale County Sheriff's Office, Conyers Police and the DeKalb County Police Department worked together to arrest Tracy Lavern Morris, 56, Decatur; Correy Terrell Robinson, 43, Conyers; and David Louis McWhinney, 37, Atlanta. All three men were taken to the Rockdale County Jail, following a chase where one of the suspects fled to DeKalb County. 
The incident leading to the suspects' arrests happened on Sunday, Oct. 18, just after midnight. Conyers Police patrol officers responded to a theft in progress at Home Depot, 1330 Dogwood Drive. Officers were already aware of previous thefts at this location involving a U-Haul box truck targeting high-end lawnmowers, authorities said. Officers observed three males in the parking lot lifting a lawnmower into the back of the U-Haul. Officers then approached them with emergency equipment activated. Two subjects, Correy Robinson and Tracy Morris, were immediately detained, authorities said.
A passenger in the U-Haul truck jumped into the driver seat and fled the scene at a high rate of speed. Rockdale County Sheriff's Office was notified and quickly encountered the suspect fleeing toward DeKalb County on Interstate 20. Deputies continued the pursuit given the information that the subjects had committed several thefts in Conyers and also other metro-Atlanta areas. Exiting on Turner Hill Road, the pursuit continued on Hwy 124 before the driver failed to negotiate a curve and crashed off the roadway, the Sheriff's Office said. The suspect, David McWhinney, then fled on foot from the vehicle armed with a pistol. Rockdale deputies and DeKalb County Police officers flooded the area and ultimately took the suspect into custody. A DeKalb County K9 officer also helped to locate the firearm that McWhinney had discarded.
Authorities said the investigation continues.