Testingfg of Ads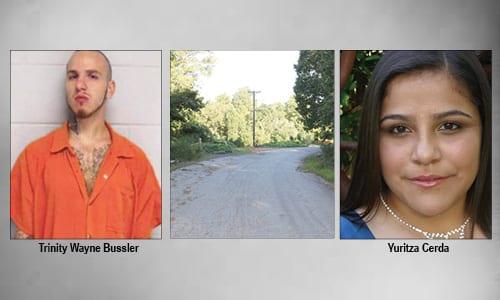 Rockdale County Sheriff's investigators have arrested Trinity Wayne Bussler and charged him with the murder of 26-year-old Yuritza Cerda.
Deputies responding to a 911 call of a hit person instead found Cerda's lifeless body in the area of 1400 Frontier Drive N.W. on Aug 30 at 6:22 a.m. Deputies said the victim appeared to have been shot in the head.
Bussler, who in a relationship with Cerda, was identified as a person of interest. Investigators located him less than two days after finding Cerda's body. Bussler was hiding inside a residence off of Old Covington Highway just inside of DeKalb County, investigators said. Bussler was charged with murder, possession of a firearm used by a convicted felon and two counts of felony violation of probation. He was taken into custody without incident, Sheriff's officials said.  
Family members thanked investigators for the prompt arrest, which was made two days after they began working the case. In a Facebook post, Omar Cerde's, the victim's brother, wrote:       
"BIG Thank you to the Rockdale County Sheriffs. The Lakeview Community for reaching out and helping us find this demon. My sister is at peace now and she looked beautiful on her last day on this earth. He did not take that from her. She was just looking for love. She tried to share her life with him and he took it all. This person does not deserve to be on this earth to hurt another person."
Cerde, who was a mother, had started a new job at Diversitech on Aug. 17, according to her Facebook page. Bussler wrote on his Facebook page: "Got Engaged" on Aug. 19. It is unclear what led to the violence in their relationship.   
Sheriff Eric Levett expressed his condolences to Cerde's family and commended his staff for their swift action in the case.