Testingfg of Ads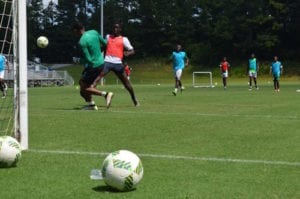 DeKalb County officials have rolled out the welcome mat to the Dream Team 4, the top professional soccer players from Nigeria who will compete in the 2016 Olympics in Rio de Janeiro in August. The team won gold at the 1996 Olympics in Atlanta 20 years ago.
Discover DeKalb Convention & Visitors Bureau, Sports DeKalb and United Soccer Africa and key partners were instrumental in organizing the 22-member team's visit to DeKalb this month.
As an Olympic team, the players had the possibility of training and visiting any place in the world and they chose DeKalb County, Georgia as the place to prepare for the Games, said Michael Lee, Communications manager for Discover DeKalb.
The group has been practicing at the Georgia State University Sports Complex in Decatur and the Atlanta Silverbacks Stadium in Doraville.
Discover DeKalb coordinated the team's arrival, lodging and meals in partnership with a number of DeKalb businesses and leaders — Hyatt Place Lithonia; DeKalb Interim CEO Lee May, DeKalb County Commissioners Mereda Davis Johnson and Nancy Jester; and Sports DeKalb.
The Dream 4 team received a proclamation from May and the Board of Commissioners on July 12. The next day, Dream players, team Coach Sampson Siasa and partners held a meet-and-greet with fans.
"We are honored that the Nigerian men's soccer team chose DeKalb County as its practice site for the Rio Olympics," May said. "DeKalb County is an international community and it is our pleasure to contribute to these international games by hosting this team."
Hartsfield Jackson Atlanta International Airport, Emory Sports Medicine Center, the Nigerian Football Federation and Consulate General of Nigeria also partnered to bring the team to DeKalb.
The team will compete in a friendly match against the Charleston Battery on Saturday, July 16, at Silverbacks Stadium with an 8 p.m. kickoff.