Testingfg of Ads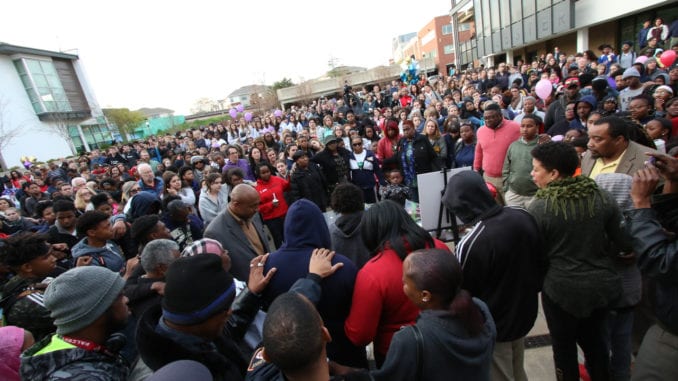 By Travis Hudgons 
Several hundred people gathered March 27 at the Beacon Municipal Courtyard in downtown Decatur for a candlelight vigil honoring 14-year-old Shykia Ward-Reese.
According to reports, Shykia was stabbed to death along with her mother's boyfriend, 35-year-old Manuel De Jesus Franco, by her uncle 36-year-old Royce Alex Stewart on March 25 at the Trinity Walk Apartments in downtown Decatur.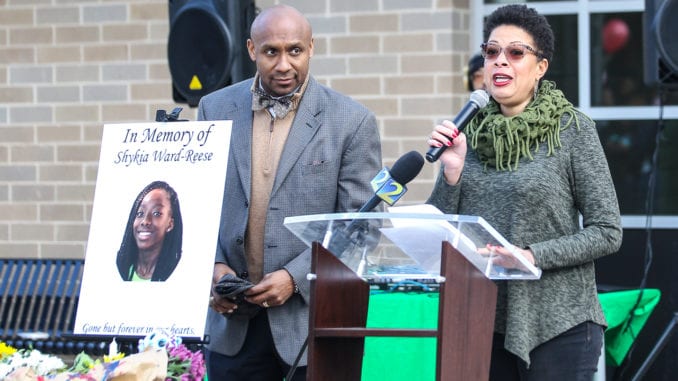 The vigil, organized by the Beacon Hill NAACP, was an opportunity for the community to come together to grieve and show its support to Shykia's family.
"She had a smile that could light up a room," said Jana Johnson-Davis.
Johnson-Davis, who helped organize the vigil, knew Shykia through her involvement with the Young Ladies of Excellence Club at Renfroe Middle School in Decatur.
She told the somber crowd the vigil was held to show Shykia's family how much the city of Decatur loves them.
"I hope that we as a community have grown closer through this tragic event," said Johnson-Davis.
Friends, family members, teachers, classmates and others were invited to share stories and memories of the Renfroe Middle 8th grader. Some told stories that caused laughter, while others fought back tears, but the driving sentiment held by all was Shykia's infectious smile and zeal for life.
"Shykia could walk in and light up third period with a smile and turn a walk to the pencil sharpener into a dance party," said Renfroe teacher Corrie Bounds, "She had a heart of gold."
As the sun fell and tears flowed, the mournful crowd laid hands on one another and prayed as they lit candles and released balloons honoring the life of the young victim.
Police arrested Stewart on March 27. He was charged with two counts of murder and one count of theft by taking of a 2014 Ford Mustang convertible. No motive was given for the attacks.
The funeral will be Saturday, March 31, at 11 a.m. at Hands of The Lord International, 1399 Austin Drive, Decatur. There will be a repass after the funeral at Renfroe Middle School, 220 West College Ave., Decatur at 3 p.m.
A GoFundMe page (https://www.gofundme.com/help-for-shykia-ward) has been established for Shykia, who is survived by her mother and 7-year-old sister.