Testingfg of Ads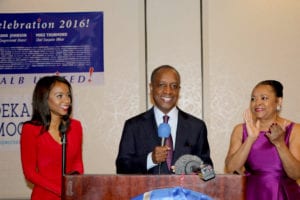 By Mackenzie N. Morgan
Democrat Michael Thurmond swept the race for DeKalb County's Chief Executive Officer on election night, becoming the new leader of more than 700,000 residents. Supporters gave Thurmond 80 percent of the vote, just as they did with the re-election of Sheriff Jeff Mann.
Thurmond defeated Republican challenger, Jack Lovelace, a retired business manager, in the Nov. 8 election.
A veteran politician and attorney who most recently served as DeKalb County's School Superintendent, Thurmond is credited with putting DeKalb's troubled school system back on track.
Thurmond campaigned for this election on a promise to restore trust and transparency to DeKalb County's government. He drew a cross-section of supporters from throughout the county, many of whom have known and supported him since he served as Georgia's labor commissioner and as a state representative.
"We have new vision with new leadership and we're getting ready to move in a new direction.…DeKalb will become a national model," Thurmond told supporters gathered for an elections watch night at the Marriott Hotel in downtown Decatur. "We're going to have a government that is effective, efficient and transparent."
The crowd cheered as Thurmond spoke, likening the event to a "family reunion" filled with Democratic leaders and supporters. He encouraged everyone to remain optimistic, despite Republican Donald Trump's commanding lead over Democrat Hillary Clinton, the first female Presidential nominee of a major U.S. political party.
"Hillary is going to pull this thing off!" Thurmond said several hours before Clinton conceded in the wee hours of the morning.
Thurmond will take the reigns from Interim CEO Lee May, who was appointed by Gov. Nathan Deal to run the county after Burrell Ellis was indicted and later found guilty of attempted extortion and perjury.
Thurmond will be sworn into office in January 2017. He will oversee 6,000 county workers and an annual operating budget of $1.38 billion.
DeKalb voters overwhelmingly re-elected Sheriff Jeffrey L. Mann on election night. Mann, a Democrat, defeated Republican business owner Harold Dennis with 80.44 percent of the vote, unofficial returns showed.
This election gave Mann a full four-year term. He had previously won an unexpired term in a 2014 special election after his predecessor, Thomas Brown, resigned to run for Congress against Hank Johnson, who was re-elected.
Mann, who has worked at the Sheriff's Office since 2011, had served as chief deputy and as an attorney under Brown's administration.
RESULTS FOR KEY DEKALB RACES:
Chief Executive Officer
Michael "Mike" Thurmond (D) 80.23
Jack Lovelace (R) 19.65 percent
Sheriff
Jeffrey L. Mann (D) 80.44 percent
Harold Dennis (R) 19.44 percent
District Attorney Sheriff
Sherry Boston (D) 99.24 percent
Clerk of Superior Court                                        
Debra Deberry (D) 99.42 percent
Tax Commissioner                                                  
Irvin J. Johnson (D) 99.28 percent
Chief Magistrate
Berryl A. Anderson (D) 99.47 percent
Solicitor General                                                    
Donna Coleman-Stribling (D) 99.50 percent