Testingfg of Ads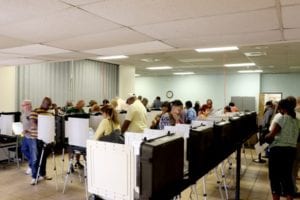 Thousands in DeKalb and Rockdale counties flocked to the polls on Oct. 17, energizing the first day of early voting ahead of the historic Nov. 8 General Election, which includes Democratic candidate Hillary Clinton and Republican Donald Trump.
DeKalb County Supervisor of Elections Maxine Daniels reported that over 12,000 residents cast their ballots on Day 1.
Daniels said that when she arrived at 6 a.m., voters were already standing in line waiting for the polls to open. More than 12,000 ballots were tallied by the end of the day. DeKalb has a total of 493,147 registered voters.
"I wasn't surprised by it. Anytime you have an open presidential office it will be phenomenal," said Daniels.
Daniels said other than periodic long lines, there were no problems reported. She said the backup was caused by voters filling out the forms to cast their ballot.
Congressman Hank Johnson, who represents Georgia's Fourth District, and his wife, DeKalb County Commissioner Mereda Davis Johnson, were among those who participated on the first day of early voting. They posted a picture of themselves on Facebook after they voted.
Johnson and Congressman John Lewis kicked off the day by campaigning for Hillary Clinton. Lewis joined Fulton County Chairman John Eaves and State Rep. Park Cannon to host a Millennial March to the polls in downtown Atlanta with college students. .
"The vote is precious, almost sacred. It is the most powerful tool or instrument in a democratic society," Congressman Lewis said. "For more than 50 years, I have marched so that every person can exercise their right to vote. I've been beaten, left bloody and unconscious, all so that each and every one of us can be full participants in our democracy."
By the end of Wednesday, more than 25,000 had cast ballots, including by mail, in DeKalb, elections officials reported.
Rockdale Elections Supervisor Cynthia Welch said the turnout in her county was overwhelming with approximately 2,706 ballots tallied for start of early voting.
"This gives us a good indication of what we can expect for the coming days of this election," said Welch, whose office had received 6,701 ballots, including by mail, by Oct. 20.
Welch said there are 48,745 registered voters in Rockdale.
Welch said sample ballots in Rockdale now include a certified write-in list of candidates for distribution. Welch circulated the memo and included candidate Courtney Dillard in the distribution. Dillard is running as a write-in candidate for Rockdale Chairman against Oz Nesbitt. Both are Democrats.