Testingfg of Ads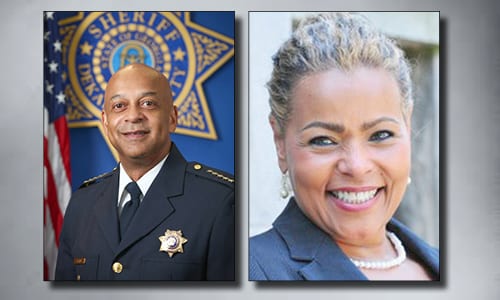 DeKalb County Superior Court Clerk Debra DeBerry and Sheriff Jeffrey Mann are hosting the Third Annual VOICES, a free Women's History Month Event on Saturday, March 23, 10 a.m. to 2 p.m., at the Maloof Auditorium, 1300 Commerce Drive,  Decatur.
The theme is "Champions of Peace & Nonviolence." The guest speaker will be Attorney Robyn A. Crittenden, former Interim Georgia Secretary of State and current Commissioner of the Georgia Department of Human Services (DHR). Also, U.S. Rep. Lucy McBath will receive the X-Factor Award.
This year, a Women's History Edition of the popular game show, Family Feud, will be incorporated. Contestants will include Chief Sarai Y'hudah-Green, Chief, City of Pine Lake Police Department; Teresa Hardy, president, DeKalb NAACP; Jarmarra Daniels, a  senior at Albany State University; Stacey Spears, sergeant, DeKalb Sheriff's Office; Judge Fatima A. El-Amin, DeKalb Juvenile Court Judge; Robin Morris, Ph.D., Agnes Scott College Assistant Professor of History; Jamida Orange, DeKalb Probate Deputy Clerk III; Macie Lee, DeKalb Clerk of Superior Court Deputy Clerk; and Vickie B. Turner, District 5 DeKalb School Board Member.