Testingfg of Ads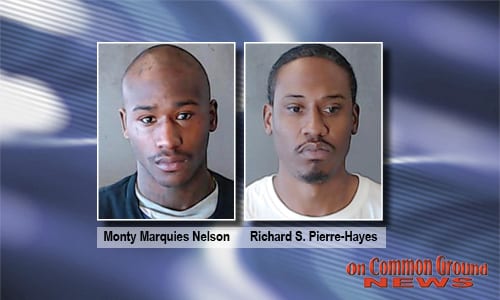 The DeKalb County Sheriff's Office has arrested two suspects in the murder of a man at a Citgo gas station in Lithonia on the eve of Thanksgiving Day.
Arrest warrants for both suspects allege that the victim, Traveon Quandarius Smith, 20, was lured out of a vehicle by one of the suspects on Nov. 21 at a gas station located at 301 North Stone Mountain Road in Lithonia. Smith was then shot multiple times in the back and head, causing his death.  Warrants say that surveillance video recorded the incident.
An arrest warrant was issued on Nov. 23 charging 24-year-old Monty Marquies Nelson of Stone Mountain with felony murder.  An arrest warrant issued on Nov. 24, also charged 35-year-old Richard S. Pierre-Hayes of Stone Mountain with felony murder.
Investigators from the DeKalb Sheriff's Fugitive and S.W.A.T. Units located and arrested Nelson and Pierre-Hayes without incident at their homes on Nov. 27. Both suspects were taken to the DeKalb County Jail.