Testingfg of Ads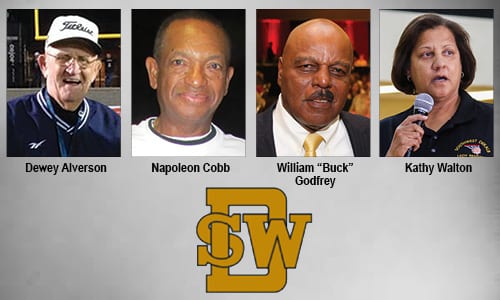 Southwest DeKalb High School (SWD) will induct four history-making coaches into the inaugural DeKalb Athletic Hall of Fame: Dewey Alverson; Napoleon Cobb; William "Buck" Godfrey; and Kathy Walton. The inductees will be honored at the school's annual "Breakfast of Champions." on Saturday, Oct. 13, 11 a.m., at the school's Performing Arts Center Building Atrium. 
Coach Alverson was head football coach at SWD for 20 seasons, from 1959 –1978, where he recorded129 wins, 76 losses and 6 ties during two decades. He led the Panthers to the 1972 State Championship, state semi- finals in 1977; and to two region championships. 
Napoleon Cobb was SWD Head Boys Track and Field Coach from 1990 – 2016. Under Cobb, Southwest DeKalb won nine State Championships and one National Championship. Coach Cobb, who is a 2015 Inductee into the Georgia Athletic Coaches Hall of Fame, also guided two of his Panther athletes to several World Championships and multiple gold and silver medal wins in the 2000, 2004, 2012, and 2016 Olympic Games. 
Buck Godfrey was SWD Head Football Coach from 1983 to 2012. He recorded a record of 273-89-1. In 30 seasons under Godfrey, the Panthers appeared in two State Championship Games, winning the 1995 Title by beating Parkview High School. Godfrey also led SWD to seven semi-finals games and claimed 13 Region Championships. Godfrey is a member of the Georgia Athletic Coaches Hall of Fame, where he was inducted in 2014. 
Kathy Walton is the current Head Girls Basketball Coach. Since 2002, her first season, she has compiled a record of 367-117. From 2008 to 2017, Coach Walton led the Lady Panthers to seven Region Championships and to eight State Championship Game appearances, where SWD won the Title five times: 2008, 2009, 2010, 2013 and 2016. Walton was the Garland F. Pinholster High School Coach of the Year in 2008 and 2010; and the BCA National High School Coach of the Year in 2009.
The Breakfast of Champions, which is held as part of SWD's homecoming festivities, celebrates the accomplishments of past and present SWD Athletic Teams and individuals. In addition to the Hall of Fame Induction ceremony, outstanding SWD athletes graduating in class years ending in 8, and well as State Championship Teams of years ending in 8, will be honored. Many former Southwest DeKalb greats, from the 1960s to present day, will be in attendance.
For more information, contact Lance Davenport, SWD Class of 1989: ltdavenport@swdtennis.com or 678-874-1902 (Main Office).