Testingfg of Ads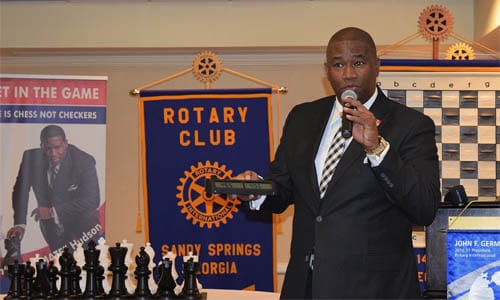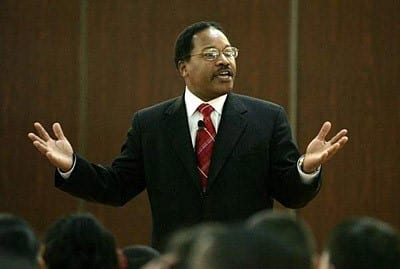 Pictured L-R: New Jersey Superior Court Judge Wendel Daniels and Orrin "Checkmate" Hudson
World-renowned motivational speaker Les Brown will be a guest on virtual chess program July 22
New Jersey Superior Court Judge Wendel Daniels will join Atlanta's master motivator Orrin "Checkmate" to inspire students to make smart moves and to think about the consequences before making a bad decision.
The judge will speak on Friday, July 17, at 10:30 a.m., during a unique virtual class designed to encourage young people to think ahead, plan, execute, and utilize the components of chess to sharpen their minds.
Daniels, who was the first African-American Judge in Ocean County, New Jersey's history, and Hudson have similar backgrounds when it comes to their love for chess and teaching critical thinking skills to young people.  Hudson is a world chess champion and founder of Be Someone, an Atlanta-based non-profit crime prevention program aimed at youths of America. Judge Daniels has been teaching chess since 1978, and is a United States Chess Federation certified coach. Both, Judge Daniels and Hudson, share a passion to use the game of chess to mentor young people on how to make the right moves and avoid last-minute wrong decisions.
"Once the kids come into my courtroom, it's too late. That's why I'm actively involved in helping these kids beforehand, so that everybody wins," said Judge Daniels. "Chess is a powerful game to teach them."
Hudson, a former Alabama State Trooper, got involved in chess after a teacher saw him headed down the wrong path and offered to teach him how to play chess, changing his trajectory. Hudson turned his passion for the game into a mission, founding Be Someone, which has inspired tens of thousands of other youths around the world.
"The program teaches self-esteem, responsibility and analytical thinking skills to youths through numerous tools, including the game of chess," said Hudson. "This is my second year partnering with the presiding New Jersey Superior Court Judge Wendel Daniels who too often sees the destruction of many young lives."
Judge Daniels is among several dynamic guests helping to mentor youths this summer through Hudson's six-week virtual chess program in DeKalb County, Georgia.
Coming next Wednesday, July 22, will be national motivational speaker Les Brown.
Other guests have included DeKalb Director of Human Services Damon Scott and DeKalb County Commissioners Larry Johnson and Steve Bradshaw.
On Saturday, July 25, the program will conclude with a chess tournament for students who will compete for a chance to win laptop computers.
For more information on bringing the Be Someone online chess and leadership program to your community, visit besomeone.org.