Testingfg of Ads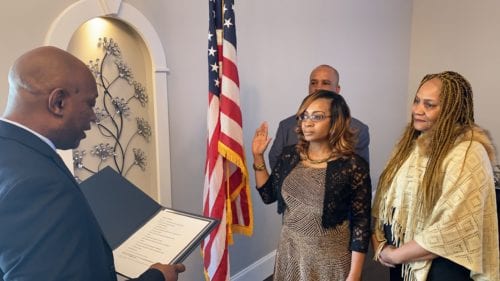 By Valerie J. Morgan
As the nation celebrates Black History Month, the city of Lithonia is honoring a trailblazer of its own in February.
The Lithonia Post Office has a new Postmaster General: Sukisha Kilgore, who was sworn in on Feb. 15 as the first woman to hold the position since the Lithonia facility opened 71 years ago in 1949. She is the ninth postmaster to serve the city and at the helm, Kilgore oversees 120 employees.
Terry Clemons, manager of Post Office Operations, administered the oath of office as Kilgore stood before a crowd of guests at the Stone Manor Event Center, located in the city of Lithonia.
Lithonia Mayor Shameka Reynolds came out to witness the historic ceremony and personally congratulate Kilgore.
"We are so very proud of her for this accomplishment," Reynolds said.
Kilgore, 39, began her career in February 2000 as a clerk in the North Metro Postal Service's processing/distribution center in Duluth.
"I came to the Post Office straight out of high school. I thought it was a good path for me to take because of job security and the opportunity for promotion," said Kilgore, an Augusta native.
Kilgore said her mother, Janice Best, who has worked for the U.S. Postal Service nearly 30 years and is now manager of customer service at the Northside Post Office in Atlanta, encouraged her to apply.
"I took the test and eventually, I was hired," said Kilgore.
Kilgore, whom supervisors and co-workers lauded as a dedicated, hard worker during her swearing-in ceremony, began climbing the corporate ladder in 2005, serving in managerial positions with the City of Atlanta Post Office and Decatur/Wesley Chapel Post Office before making her way to the Lithonia Post Office.
"She has always been ambitious. She would take the gloves off at any time. She's always been dedicated," said Corliss Blake, a supervisor who served as mistress of ceremonies for the swearing-in celebration.
Bishop Janice Best, a cousin who traveled from Richmond, Virginia, to witness Kilgore's swearing-in ceremony, said Kilgore has always had God in her life and she has always pushed for excellence.
"I've watched her grow and flourish," said Best. "I've told her mother that she(Kilgore) comes from good stock. I'm looking forward to her moving higher and higher."
Kilgore said the desire for excellence is definitely in her DNA, crediting her mother for being a guiding force in her life.  She said she plans to continue pushing for excellence in her new role.
"My goal as postmaster general is for the Lithonia Post Office to provide excellent service. Carrier are getting out sooner on the streets and getting the mail delivered and I'm pushing to get customers who come in and out of here. That's my goal," said Kilgore.
Kilgore and her children—Ronald, 11, and Harmony, 9—live in  Lithonia. The family are members of Berean Christian Church, where Kerwin B. Lee is pastor.