Testingfg of Ads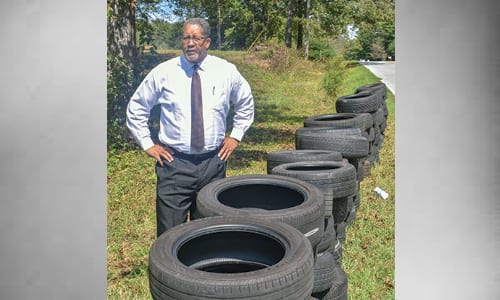 Stonecrest Mayor Jason Lary will host "Straight Talk With the Mayor" on Oct. 8, 7 p.m., at City Hall. Lary said this month, his topic is entitled "Talkin' Trash." He will field questions from constituents and discuss steps the city is taking to crack down on illegal dumping and other code enforcement issues in the city.  
Recently, more than 150 tires neatly stacked about three feet high were dumped on the shoulder of Evans Mill Road near Rock Springs Road, Lary said.
"Unbelievable. Whoever did it must have come during the night," said Lary. "We're not going to put up with this in the city of Stonecrest."
The city got help from DeKalb County in removing the tires. It took two trips to clean up the tires, officials said.
Stonecrest is not alone in experiencing dumping. In July, officials in neighboring Rockdale County had to clean up a two-mile trail of over 100 tires that were illegally dumped. A muddy shoe print and the trail of tires led authorities to the suspect, Zavien Corell Sims, a 17-year-old from Conley. Rockdale authorities said the tires were dumped from the entrance lane of 7th Century Row near McDaniel Mill Road to Klondike Road at Stonebridge Trail. Sheriff's deputies saw a large U-Haul truck that was stopped in the exit lane of 7th Century Row.  The U-Haul was unoccupied and the rear area was loaded half way with used tires. Deputies spotted the teen walking on McDaniel Mill Road. He had tire marks on his shirt, mud on his shoes and black residue on the palms of his hands. One of the investigators on the scene located a muddy shoe print in the asphalt that matched the shoes Sims was wearing. Sims was arrested on felony charges for unlawful dumping for commercial purposes.
Lary's  October meeting will mark the second installment of "Straight Talk." The mayor launched his town hall meeting in September to give stakeholders a chance to meet with him and discuss issues relevant to the city.