Testingfg of Ads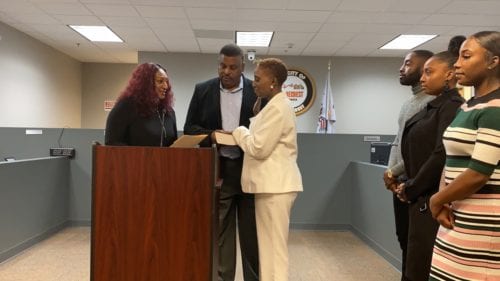 Tammy L. Grimes took the oath of office on Dec.17, becoming the newest District 5 Councilmember for the city of Stonecrest. Grimes' inauguration marked another chapter for the city, which became DeKalb County's largest municipality with more than 50,000 residents when it was incorporated in 2017.
Attorney Noreen Banks-Ware, a long-time friend of Grimes, administered the oath of office. Grimes was flanked by her husband, Reginald; son, Reginald II; and two daughters, Taylor and Tylar as they all stood before a packed crowd at City Hall. Grimes' father and mother, Willie and Alean Tayton, and Grimes' sister, Dr. Sheila Tayton, her only sibling, were among several relatives who attended the 10 a.m. ceremony.
Mayor Jason Lary, Councilmembers George Turner, Rob Turner and Jimmy Clanton were among the elected officials in attendance, as well as former State Rep. Dee Dawkins- Haigler. Several members of Delta Sigma Theta also came out to support Grimes, who is a member of the sorority.
The Rev. Eric Robertson, who serves under Pastor Marlin D. Harris at New Life Church in Decatur where Grimes is a member, performed the invocation.
Raquel Jones and her daughter, Victoria Jones, sang the national anthem.
Grimes fought back tears during the swearing-in ceremony. Her children also teared up as they watched their mother, a DeKalb County educator, make history for their family.
After the ceremony, Grimes shared with the audience during her inauguration speech  what it meant to follow in the footsteps of other elected officials in her family.
"It's in my DNA," Grimes said, acknowledging an uncle who was the first black elected to the Lowndes County Board of Commissioners and a cousin who ran for political office in Henry County.
Grimes said God ordained her to run for the District 5 seat. Grimes' first ran for the seat in 2017, receiving 45.6 percent of the votes in a runoff with Diane Adoma, who won the election with 54.4 percent. In November 2019, Adoma gave up the seat and ran unsuccessfully for mayor. Grimes ran for Adoma's seat in a six-way race and ended up in a runoff, defeating Dave Marcus, a retired strategic planner and financial analyst, on Dec. 3.
Grimes said her victory would not have been possible without the support of family and others. She devoted much of her inauguration speech thanking supporters, telling the audience how she valued relationships. She said she was overwhelmed with joy by relatives and friends who came from near and far, some of them driving from Valdosta, her hometown, to witness the inauguration.
"Relationships matter. I can say personally that 99.9 percent of you out there—I have  a personal relationship with you and that means a lot," she told the audience. "To see you here this morning on a rainy morning, it means a lot for you to witness what God has called me to do…," Grimes said.
Following her speech, Mayor Lary told Grimes and the audience that he was proud to have her aboard the City Council, acknowledging that relationships also matter and that he and Grimes share the same alma mater, the historic Clark Atlanta University.
Grimes said she is looking forward to serving. The City Council will hold its first meeting of the New Year on Jan. 13. The Work Session will begin at 6 p.m. and the City Council meeting will begin at 7 p.m., at Stonecrest City Hall.