Testingfg of Ads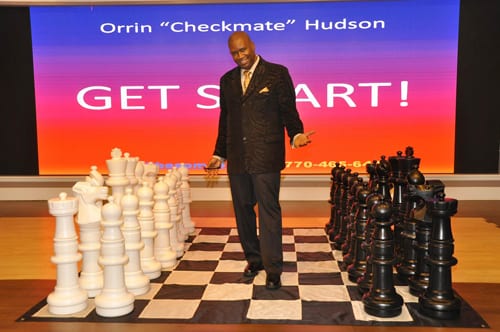 By Orrin "Checkmate" Hudson
The latest senseless school shooting has taken more young lives and changed countless others forever. Many call for more gun control to stop the carnage.  Although we can look at ways to make it harder for the wrong people to obtain firearms, I do not believe radical gun control methods will make a difference.
According to the U.S. government, there are an estimated 300 million guns in the nation. Will more laws stop the violence or should we be looking at other long-term and long-lasting approaches?  What can we do in identifying and treating minds that are prone to violence?  I believe the answer lies not in the weapon but in the mindset of the person. Considering the garbage – music, movies, wrong role models, broken homes, poor education – many of our young people are subjected to today, it is no wonder so many end up in failure when if only taught how to make the right moves early in their lives, they could be embracing success instead.
If a person is taught or experiences violence and killing at an early age, chances are that person will grow up to be violent.  On the other hand, if a person is taught love, peace and mutual respect from the beginning, that person will likewise follow early childhood teachings and grow into a kind, peace-loving, respectful, productive, nonviolent adult, capable of making the right moves. That should be our focus.
My message is this: Stop the violence! Save the children! We must checkmate crime and violence by putting brains before bullets.
I was moved to start Be Someone after learning about young people killing other young people in a robbery and now here we are today experiencing another gut-wrenching loss of young lives filled with so much promise.  I pledge to continue my efforts to show children and young adults there's the right way to live a life and they have the key inside them if they are shown how to find and use it.
I was lost at one time in my life, heading for personal destruction.  I was saved by a teacher and a chess board.  I'm proud to tell anyone I rose from the ashes of my youth to become a success.  I'm proud of the titles used by many in referring to me: recognized youth mentor and anti-violence activist.  I learned to use my own brain to make the right decisions and to quit following and listening to losers who cared only for themselves and their instant gratification. I learned that every move in chess has a consequence just like the constant moves we all are faced with in life. I was taught to think it out, not shoot it out.  And now I'm sharing this lesson that guarantees success.
I have decided to offer special training – free of charge – designed to give young people hope and the tools for success. On Saturday, March 17, my team and I will use a life-size chessboard to bring life lessons to students in metro Atlanta at the Be Someone Training Center in Stone Mountain. By learning to outthink the competition, our participants will learn to respect others, think before they make dangerous moves, and give more than they take. The session will outline specific strategies that help students clearly understand there are consequences for every move they make in life.  The training is "designed to provide constructive tools for life." The game of chess changed my life.  Now I use it to change the lives of other young people.
I invite you – parents, grandparents, guardians, friends, young adults –  to visit www.BeSomeone.org to learn more about me, Be Someone Inc. and our free March 17 training session.  You may also call me at 770-465-6445.
About Orrin "Checkmate" Hudson
Orrin "Checkmate" Hudson is the founder of Be Someone (www.BeSomeone.org), a life changing program that uses the game of chess to teach that for with every choice we have in life, there is a relating consequence.  He is a former Air Force veteran and law enforcement officer. Hudson has been awarded the prestigious FBI Director's Community Leader Award, and since the year 2000, his program has brought 55,000 students the life-affirming message of "Peace, Positivity, and Purpose."