Testingfg of Ads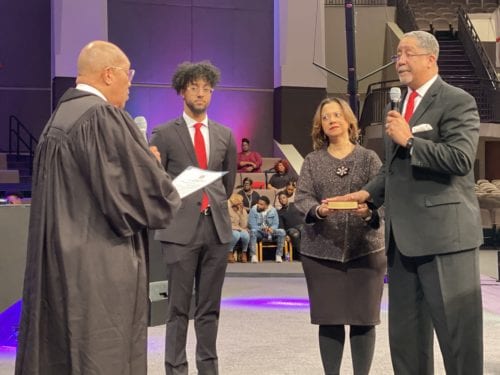 Pictured L-R: DeKalb County State Court Judge Ronald Ramsey administers the oath of office to Mayor Jason Lary (far right) as Lary's wife, Debbie, and youngest son, James, look on.
Stonecrest's founder Jason Lary takes oath of office for second mayoral term
Stonecrest's visionary and founder, Jason Lary, was sworn in for his second term as mayor tonight (Jan. 7) during a ceremony at New Birth Missionary Baptist Church. Lary took the helm, turning the city's pages of history again, as the mayor of DeKalb County's largest city, boasting 54,300 residents.
Lary spent four years pushing for the incorporation of the municipality, which was approved by voter referendum in 2016.
"Stonecrest will be the most recognized city of commerce, production and jobs , collaboration, partnerships and economic growth the nation will ever see from a newly-created city. Period.," Lary told the audience following the swearing-in.  "We are the largest city created since Reconstruction—the largest city created since after slavery with 97 percent African Americans. That is something alone that we should be proud of."
Lary was joined in the pulpit for the ceremony by his wife, Debbie, and their youngest son, James. Their eldest son, Jason, Jr. was unable to attend due to his job in South Florida but was "watching" online via Facebook live, Lary said.
DeKalb County State Court Judge Ronald Ramsey performed the oath of office as several dignitaries and elected officials looked on including Lithonia Mayor Shameka Reynolds and Lithonia Councilmember Darold Honore, who were sworn in to office on Jan. 6; State Rep. Doreen Carter; State Rep. Dar'shun Kendrick; DeKalb County Sheriff Melody Maddox; DeKalb's Super District 7 Commissioner Lorraine Cochran-Johnson and District 5 Commissioner Mereda Davis Johnson, wife of Congressman Hank Johnson; DeKalb County Tax Commission Irwin Johnson, DeKalb School Board Member Vickie B. Turner, and Chief Judge of DeKalb County Juvenile Court Vincent C. Crawford, to name a few.
Among the community leaders were Teresa Hardy, president of the DeKalb NAACP, and Kendra Price, president of the Greater Lithonia Chamber of Commerce. Several members of the mayor's fraternity, Kappa Alpha Psi, also attended, along with all of the members of the Stonecrest City Council.
Deputy City Manager Plez Joyner brought greetings on behalf of the City of Stonecrest. State Rep. Vernon Jones presented the occasion and DeKalb CEO Michael Thurmond brought greetings during the program. Dr. Jamal Bryant, New Birth's senior pastor, performed the invocation. The mayor's pastor, Edward L. Randolph, Jr. of Union Missionary Baptist Church in Lithonia, did the closing prayer and benediction.