Testingfg of Ads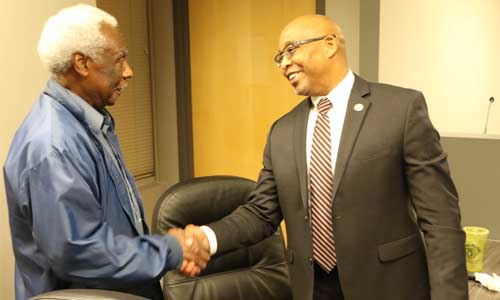 City Manager Michael Harris says goodbye to J.W. Eady, who regularly attends the Stonecrest City Council meetings. Photo by Glenn L. Morgan/ocgnews.com
By Valerie J. Morgan
Michael Harris, who has served as the inaugural city manager for the city of Stonecrest, is leaving the city to return to Henry County government where he worked previously.
Harris has been appointed to serve as the county's deputy tax commissioner. His last day with the city of Stonecrest is March 8. He said he would begin his new position sometime in March.
Mayor Jason Lary commended Harris for his work with Stonecrest. He praised Jacobs, the firm Stonecrest hired to get the new city up and running, for selecting Harris to oversee the day-to-day operations of the city. Harris, 53, was appointed by the City Council in May 2017, five months after the city was incorporated on Jan. 1, 2017.
Lary said while the city has not yet named a successor to replace Harris, he is confident the city's operations will continue to run seamlessly with current staff until a permanent replacement is made.
"Because I am a full-time mayor and Jacobs is a machinery of quality employees, we will be just fine.  I anticipate that the duties and responsibilities of the city will go on without interruption," said Lary, adding that changes in government administrations are common and the city of Stonecrest is not unique in that respect.
Lary said that some of the city's growing pains have been exacerbated by infighting and people who want to make the city look bad and fail "because they want to be mayor."  There is one person , he said, who continually " oversteps their boundaries with unwarranted demands with our employees, causing them to leave.
Stonecrest, which has an estimated population of 53,000 residents, is the largest city to date formed in DeKalb County. The all-black city council is comprised of two women and four men including the mayor.
"I fully expect that as the city evolves, there will be more changes," Lary said. "It just means that we have the opportunity to mature and grow as the city expands its service offerings."
 City Councilwoman Diane Adoma, who often is at odds with Lary and acknowledged that she has filed a declaration of intent to run for mayor, said she would like to see the city conduct exit interviews to understand and document staff departures. She said she is concerned about two other executive-level departures that have occurred in the last three months.
"Whenever you have three top people leave in that short amount of time, that is a bad sign," said Adoma, who earned a doctorate degree in human resources management with a focus on employee retention. "No HR person jumps for joy when the top three people leave. You've got to train people and evaluate them and there is a cost associated with it. I think a lot of what is happening has to do with leadership. Leadership style impacts productivity, retention and it impacts morale."
Harris' departure follows that of inaugural City Attorney Thompson Kurrie , Jr., who retired in December. Kurrie, 70, had expressed on several occasions during City Council meetings that while he had enjoyed working on the initiative and the incorporation of the city since 2005, the job was not one that he saw as long term.
Brenda James, who was hired by Jacobs as the first city clerk, resigned again in February. She had stepped down previously last year after illness and returned.  She said she found an opportunity near her home in Fayettville, which is over 25 miles from the city of Stonecrest.
At the Feb. 25 Stonecrest City Council meeting, Harris thanked Lary, council members, city staff members and the community for giving him the opportunity to serve as Stonecrest's first city manager.
"It's a bittersweet time for me…  I've been embraced by this community like nothing I've ever seen or expected. While we've had some challenges we've had to deal with on a regular basis—the good and the bad and everything that came with it—I can't tell you how much I appreciate the kind words…" said Harris, adding that even with the challenges, it was done in a "heartfelt" manner and passion and "desire to see the city do better." "…The city of Stonecrest will always be a special place for me. "
During Harris' tenure with Stonecrest, he was responsible for securing staffing, facilities, furnishings and equipment.
Prior to his work with Stonecrest, Harris served as City Manager for the city of Stockbridge for 3 years and 2 months. He worked for the Henry County Board of Commissioners for 4 years and 10 months  and served as interim Henry County manager and Division Director, for a total of nearly 5 years.
Harris received a Bachelor in Science degree in civil engineering from Howard University.