Testingfg of Ads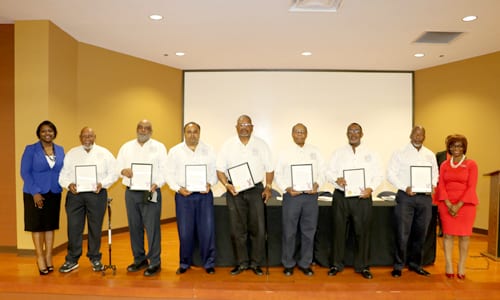 Stonecrest City Councilwoman Diane Adoma hosted a Town Hall meeting and Veterans Day program on Nov. 6, just ahead of the Nov. 11 national holiday. Every military veteran who attended the event at the Stonecrest Library was honored, said Adoma.
"We had all of the veterans to stand on stage. We asked everyone to take a moment of silence to thank the veterans for their service," said Adoma.
State Sen. Tonya Peterson, District 43, served as the keynote speaker for the program. Peterson, who served in the U.S. Air Force, also was honored and thanked for her service during a presentation of proclamations.
Proclamations were presented to Eddie Hawes, retired U.S. Navy; Broderick Johnson, retired U.S. Army; David McKinney, U.S. Army; Johnathan Stegall, U.S. Army; Bruce A. Brim, retired U.S. Army; Richard Hawkins, retired U.S. Air Force; Gregory Brown, retired U.S. Air Force; and Monty Telford, U.S. Army.
Dr. Duane Thomas, a retired veteran who lives in Stonecrest's District 5, and First Lt. Nathaniel Williams, who is a member of the Arabia Mountain High School Colorguard under direction of Major Charles Baker, also were honored. First Sgt. Norton of Miller Grove High School, who sang the national anthem, was acknowledged as well.
During the Town Hall portion of the program, Adoma announced a community partnership with District 5 landowner, Sandra Jackson, who is exploring building an upscale Veterans Village. Adoma said Jackson plans to break ground in 2018.