Testingfg of Ads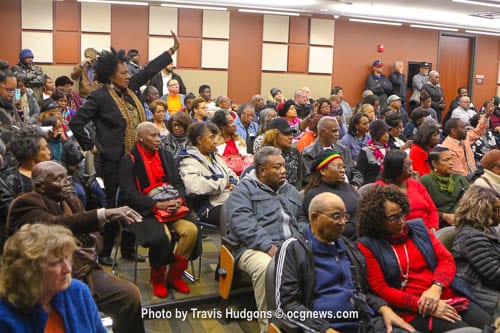 There were so many people who turned out for the Jan. 16 town hall on the abrupt closing of the Stonecrest Sam's Club that State Rep. Vernon Jones took a short intermission and asked people to leave in order to give others a chance to come inside the Stonecrest Library auditorium.
"We want to give as many as possible the chance to ask questions and hear the answers," said Jones, who held the town hall after an outcry from the community who learned of the store's demise on Jan. 11 when it abruptly closed. Many in the community found out the store was closed as they arrived to shop or report to work that day. Others found out as national media outlets reported the closings around the country.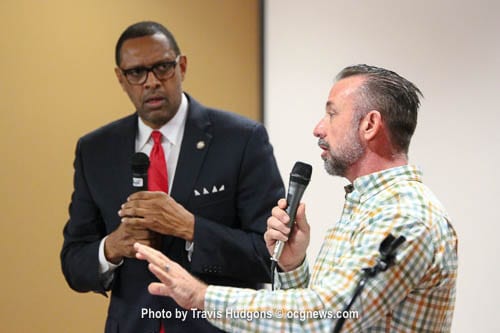 Stonecrest Mayor Jason Lary, who held a news conference outside the store on the morning it closed, expressed his outrage. He witnessed employees who were in tears and shocked customers who were turned away by a security guard.
"Unbelievable. You don't do people like this. You don't just close the doors on people who have supported you for years with no warning," Lary said.
DeKalb County Commissioner Mereda Davis Johnson criticized Walmart Corp. for not sending a top official who could answer the public's questions in detail.
"If Sam's Club or Walmart Corp. wanted you all to know the answers, he (Wilkins) would have had them here tonight. I think it's a bunch of whitewashing," said Johnson, adding that the only way to make it clear to Walmart and Sam's Club that the community won't stand for this kind of disrespect is to "hit them in the pocketbook."
Jones said more than 1,000 people attended the town hall. They left angry.
Glenn Wilkins, public affairs and government relations manager for Walmart, the parent company for Sam's Club, told the audience the company is not reversing its decision, citing underperformance as the main reason for the store's closing.
"It was a financial decision. You put the numbers together. It wasn't performing great… I know there are other opinions out there but it was purely based on the numbers," Wilkins said.
Wilkins said officials made the decision to close 63 Sam's Clubs around the nation, saying it was reviewing its business strategy. He said the stores closed down on Jan. 11 without warning to employees or the public. The Stonecrest  Sam's Club was the only one closed in Georgia, he said. It opened in 2003.
"We notified the associates when they came in and we notified members when they came in as well. No one had advance notice. They walked in and we had the opportunity to talk with them at that time," Wilkins said.
Wilkins said the employees are being paid for the next 60 days. They're getting double pay for the next two weeks. They will get a 2017 bonus, plus a one-time bonus. He said some employees were offered the chance to work at another Sam's Club or Walmart.
Faye Coffield, a long-time resident in the area, said she doesn't believe that the Stonecrest store was underperforming and asked if Walmart would provide information on all the Georgia stores revenues to Rep. Jones.
"I'm old-school civil rights so I only shop where I'm respected and in my neighborhood," Coffield said.
Wilkins said Walmart would not disclose those numbers because it is proprietary information.
Asked why the store closed without warning, Wilkins could not explain why.
"I don't know how you give advance notice," Wilkins said. "We notified the associates when they came in and we notified members when they came in as well. No one had advance notice. They walked in and we had the opportunity to talk with them at that time."
Asked if the closings were only in minority communities, Wilkins said no.
"We closed three clubs in Alaska, we closed a store in Scottsdale Arizona, we closed a store in Vermont, we closed a store in Houston and Indianapolis. If you look, it's all across the country. It's as diverse as our portfolio," Wilkins said.
One person in the audience who identified himself as an employee at the Stonecrest store said he did not think it possible that the store was underperforming.
"You said it was based on numbers. I worked at that store. It does not make less than $100,000 per day. Per day," he said. "If that store doesn't make money at $100,000 a day? They push us. They push my people to get that money… You can't tell me that store is not making money."
Wilkins told the man that he didn't say the store wasn't making money, angering the crowd further.
Jones said he wanted Wilkins to take back to corporate officials the public's concerns.
"We sure want Walmart to know that we don't want Sam's Club closed, and even if they made that decision, what can we still do to get the doors back open," said Jones.