Testingfg of Ads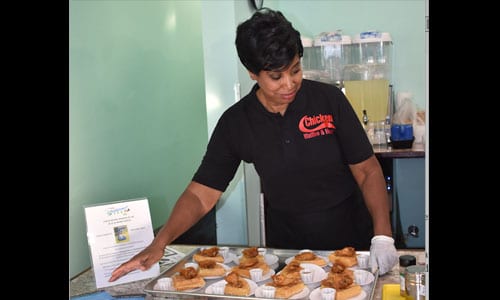 Stonecrest resident and business owner Angela Zimmerman, owner of Chicken, Wings & Waffles, passed away on Feb. 11 at DeKalb Medical at Hillandale.
City of Stonecrest officials who had frequented Zimmerman's restaurant at 6768 Browns Mill Road had few details about her death.
Stonecrest Communications Director Adrion Bell said he and other city officials were shocked and saddened by her sudden passing.
"Angela suffered from a heart condition and we believe this is what caused her death at around 10:30 today (Feb. 11). Last September, Mayor Jason Lary, Councilman Jimmy Clanton and several city staffers celebrated with Angela at the grand opening of her restaurant, Chicken, Wings, and Waffles…," Bell said in a post on the city's Facebook page.
Bell said Zimmerman was a good friend who had an "infectious laugh." He said she cared about her community and Stonecrest, and as a business pioneer, invested in the city of Stonecrest.
"Angela poured her life into her dream business but late last year, doctors told her that the stress of her new venture could be life-threatening. Angela took a short medical leave in December and was making plans to sell the business. Yet in the meantime, no one could manage the shop with the love that Angela possessed, so she went back to work part-time last month and was back serving her turkey burgers, chicken wings, waffles and more," Bell said in the post.
Mayor Jason Lary said Zimmerman would be missed. The city held a grand opening for her restaurant on Sept. 30, 2019 and featured Chicken, Wings & Waffles on the city's website as a "Stonecrest News Brief."
Bell said the city did not have any information regarding funeral arrangements but would share the information once provided.