Testingfg of Ads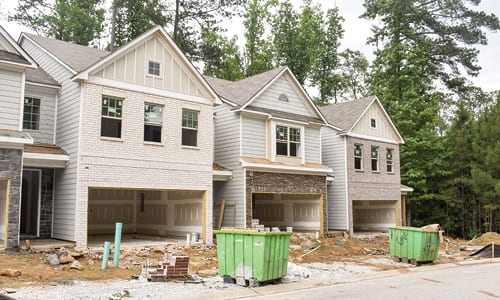 By Valerie J. Morgan
New businesses and new homes are skyrocketing in the city of Stonecrest, which marked its first birthday in May.
Stonecrest officials say the city has issued 124 new business licenses this year, compared to 114 new licenses issued for 2017.  
Officials say the numbers for residential development also are positive. So far this year, the city has issued 180 residential building permits, but the city's housing growth, is expected to explode over the next couple of years.
In addition to the 180 residential permits, land is being cleared now for a new single-family subdivision where some 200 homes will be built by developer D.R. Horton near the intersection of Browns Mill and Evans Mill Roads. Preswick Communities is building a 175-unit senior housing complex at 2454 DeKalb Medical Parkway, and Beverly J. Searles Foundation is planning a 250-unit senior complex at 6757 Covington Highway. The first phase will be 128 units and 122 units will be added in the second phase, city officials said.
Parks at Stonecrest, a subdivision of 400 single-family homes, is expected to double in size over the next two years, said Edwina Clanton, a real estate broker who lives in the subdivision.  
Mayor Jason Lary says the city's vision to create economic development is taking shape.  
   "We are excited about the commercial development and residential growth because the two are intertwined," Mayor Lary said.  "We are more attractive to major commercial developments when we have a solid population residing in homes that require incomes of $85,000 or more.  This drives up Stonecrest's average household income, which draws businesses."
  Academy of the Arts, located at 5424 Hillandale Park Court, Suite B, is one of the growing numbers of businesses that have moved to Stonecrest. Owner Susan McGee said she decided to relocate her business from the Stone Mountain-Tucker area to Stonecrest to be closer to the families she serves.
"After being in business for 21 years, I decided that relocating to the city of Stonecrest would enable me to better serve my clientele who live there (Southeast DeKalb) and Conyers," said McGee, whose academy offers tap, jazz, hip hop, tumbling, modern, majorette and a dancewear boutique. "Parents have such busy schedules, my new location will put them closer to home."
McGee praised the city for its customer service in getting her business license.    
"It was easier for me, as far as getting answers and calls back from city officials," McGee said. "They were very professional."    
City officials cite other examples of new businesses in Stonecrest:
 The Pizza Bar, which is planning to open in the space formerly occupied by Gladys Knight & Ron Winans Chicken and Waffles at 7301 Stonecrest Concourse, Suite 123. 
A 14,821-square-foot plaza that will be built at the intersection of Browns Mill and Klondike Roads. 
Adrion Bell, the city's director of communications, said city officials are hoping that businesses seeking leasing opportunities will step up as new plazas are built.  
  "When you look at plazas like the one at Browns Mill and Klondike roads that are coming, there are opportunities for dentists, insurance agencies like State Farm and restaurants like Subway that would be surrounded by homes and schools and would do well in those locations," said Bell. 
 Economic Development Director Sabrina Wright said the city is not only seeking to attract retail, restaurants and service industries, but health and wellness facilities, growth in the city's industrial park and more large-scale projects such as the Courtesy Dodge Chrysler Jeep dealership that is under construction on Mall Parkway.  
"We have a lot of vacant land available. One of the things that I've been doing is riding with brokers to show them what's available," said Wright, who, along with Lary, last month attended the International Council of Shopping Centers RECon Convention in Las Vegas to network and recruit businesses. 
"You can't do this level of work as a part-time mayor. When you're building a city, you've got to be at the table, at meetings to represent the city and see that the vision is carried through," said Lary.     
Lary said RECon is the world's largest retail real estate convention, providing attendees with global networking opportunities and professional development.
Wright said she is following up on leads from the conference. She said she and City Councilman Jimmy Clanton and others are developing initiatives to support businesses the city hopes to recruit, as well as those that are already established in the city.  
"We are looking at launching a Shop Stonecrest initiative to encourage and promote residents to spend money locally," said Wright. "We are also working with Discover DeKalb to promote its free customer service training to hotels and other businesses. The idea is that we want to make sure that customers have a good experience and they return."
Clanton said it's important for Stonecrest residents to be intentional about supporting businesses in the city.
"I want our residents to really think twice before they buy somewhere else. Commerce indexes or whatever you want to call it, determine whether or not businesses are going to come to a given area," said Clanton, whose District 1 includes the mall and the industrial park. "We have to show that we spend at Arizona's, Olive Gardens and other restaurants like that, if that's what we want to attract to Stonecrest. Dollar stores don't just come out to explore. They know they're going to do well before they come."
Clanton said he, Wright and Matt Hampton, director of entrepreneurial programs at The Startup Factory, have discussed creating a Stonecrest certification seal for eligible businesses to display. Clanton said the development of an app could track customer feedback, which along with other criteria, would determine whether a business receives the special certification.  
   "We are exploring a lot of options right now and I believe that every council member should be involved in providing input, as well as members of the community," said Clanton. "We want to make the city the best that it can be—from zoning and code enforcement to beautification and Smart Cities initiatives. We can't afford to work in silos."   
 Meanwhile, Lary said he has appointed 10 members to serve with him on the Stonecrest Development Authority. The Authority, comprised of local business owners and economic development specialists, will develop and promote trade, commerce, industry, and employment opportunities for the city, Lary said. 
The city is partnering with Doug Stoner to conduct the training and management of the Development Authority. Training for the Authority's members will begin soon, Lary said.  
Stoner, a former state representative and senator, served as chair of the South Cobb Redevelopment Authority, managing director of the Development Authority of DeKalb, a consultant for the Atlanta Beltline Partnership, Inc., and chair of the Cobb Transit Advisory Board.
"The development authority will boost our economic development by offering tools that typical governmental entities can't offer such as issuing bonds with lower rates.  The Authority is a huge economic development tool. They will also work with the city to offer tax incentives," Lary said.