Testingfg of Ads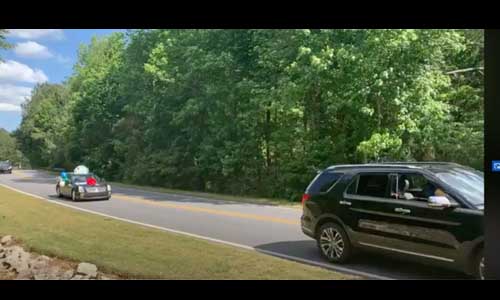 The COVID19 pandemic may have shutdown their graduation ceremonies, but the virus couldn't steal their joy. The Parks of Stonecrest and The Terraces– two communities in Stonecrest, GA– held a parade to honor their graduates on Saturday, May 16, 2020. Stonecrest City Councilman Jimmy Clanton provided protective masks for the event as cheering neighbors, relatives and friends, following the state's mandated social distancing due to the coronavirus, came together to salute the students. A caravan of decorated vehicles rolled through the communities honking their horns in celebration.
The communities congratulated the following graduates:
Matoaka Wilson-Tuskegee University
Nadiyah Swann-Miller Grove HS
Sydney Wilson-Georgia State University
Torey Taylor-Arabia Mountain HS
DeAndre Carter -Lithonia HS
Clayton Hyderkhan-Lithonia HS
William Taylor II-Arabia Mountain HS
Dinah Dorsey-Lithonia HS
Christian Peterson-Lithonia HS
Justin Turner-Arabia Mountain HS
Ethan Childs-Southwest DeKalb HS
Keanunna Gamble-University of Texas
Emanni Bates-FAMU, Miss FAMU
Sorenna Stewart-Georgia Piedmont College
Jasiah Mike-Oviedo HS
Special thanks to Edwina Clanton for videotaping the event and Brenda Ausberry & Brenda Williams, who served as coordinators for the historic special day.