Testingfg of Ads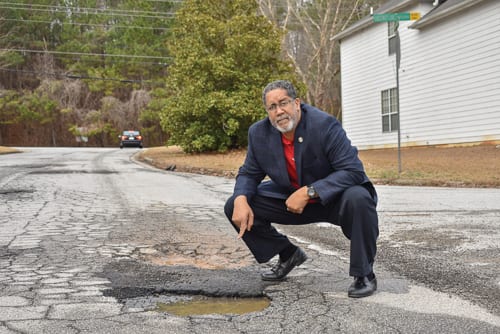 After hearing several complaints from residents about potholes that are plaguing the city's roads, Stonecrest Mayor Jason Lary has vowed to fix the problem.
"It's not just a matter of damage to automobiles, it's a safety issue now," Lary said. "It's critical. I'm going to find a way to fix these roads as fast as we can and it won't be some cat and scratch (repairs).  We have the money to fix it and I'm going to make sure that it gets done."
Resident Tammy Grimes, one of several residents who spoke at the mayor's Jan. 22 "Straight Talk" town hall meeting, where key officials from DeKalb County Roads and Drainage joined the mayor in fielding questions, said potholes on Salem Road are posing a serious threat to motorists.      
"Salem Road is an imminent danger to those of us when it dims in the evening and to those youngsters who are looking forward to getting their driver's license. They don't have the experience to dodge potholes that are there," Grimes said.     
Dave Marcus, another resident, said that he recently was almost hit in a head-on collision after a car swerved around a pothole on Salem Road.  
Lary said more than 5,000 of the city's 53,000 residents live off of Salem Road, which has deteriorated in some places to the point that the potholes have become "craters."
The pothole problems, however, are not isolated to Salem Road, residents say. Turner Hill Road, which is near the Mall at Stonecrest, Union Grove, Evans Mill and Panola roads all have deteriorating surfaces, as well as interior streets within a number of communities and subdivisions. One resident described a street in his community as patchwork similar to a quilt.
Officials blame the potholes on heavy traffic and the fact that many of the roads are outdated and constructed with clay as a foundation.      
Peggy Allen, deputy director of the county's Public Works Division, said standards used today to construct roads are much different than 30 or 40 years ago. Residents had several questions regarding the time table for repairs but Allen said she did not know because of other factors including weather and severity of the problems.  
Lary said to assist the county in making the repairs more efficiently and expediently,  the city has placed a "pothole tracker" on the city's web site(stonecrestga.gov) that permits users to report potholes from their cell phones. Users can include a photo along with the location and the information is immediately forwarded to city personnel.
Still, the outcry from Stonecrest residents over road conditions in the city has come to a head as DeKalb County announces improvements to its infrastructure, thanks to funding from the county's Special Purpose Local Option Sales Tax program. Stonecrest's funding, however, has been sitting in the bank as the City Council tries to determine who will manage the SPLOST program.
Kerry Williams, a civil engineer and a member of the city's SPLOST Advisory Committee, told the council at its Jan. 15 meeting  that the city must move swiftly to take advantage of this year's paving season. During a presentation, Williams urged the council to use a digital Pavement Management System to analyze and prioritize the road repairs needed for the costs. He recommended that the council use current staffing and the city engineer to manage the process, rather than go through a procurement process to hire a project manager. He said if the city moves forward quickly, Stonecrest could get on track for the paving season, which runs April to early November during Georgia's warm weather period.
Lary said he is optimistic that the city can move forward and address its crumbling roads. He told residents at the town hall meeting that the city recently learned that an additional $500,000 is available for road repairs through state-funded Local Maintenance Improvement Grants.
"The money is there. We must address this issue," Lary said.        
Lary said he plans to create a citizens pothole oversight committee to track road repairs and to hold the city accountable for the work.
The oversight committee, along with the road analysis, SPLOST program management, are all items that are on the council's meeting agenda for Jan. 28. The work session begins at 6 p.m., followed by the City Council meeting at 7 p.m. The meeting will be held at Stonecrest City Hall.