Testingfg of Ads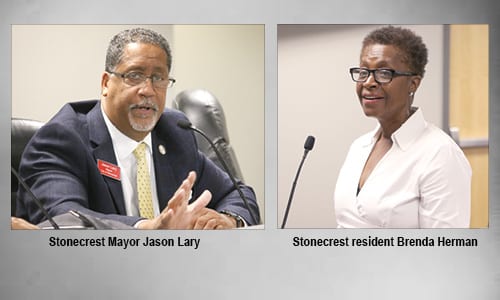 By Valerie J. Morgan
Stonecrest Mayor Jason Lary says the city is increasing its efforts to crack down on illegal house parties in the city.
Lary said the crackdown is in response to the growing number of complaints from community residents who say the parties at vacation rental properties have become a nuisance.  
"In an effort to crack down on all of the illegal house parties that have been taking place here in Stonecrest, I have ordered our Code Enforcement Manager, Al Ferrell, along with his entire staff, to identify and shut down these events before they begin," Lary said.
"District 4 Councilman George Turner and I have heard you loud and clear to put these illegal gatherings at the top of our community list. They are unsafe, out of compliance, and a traffic and noise nightmare for the residences in that neighborhood, and adjoining properties."
Stonecrest Communications Director Adrion Bell said an event that was being promoted pre-Fourth of July weekend at a house in Sandstone Shores, (Mansion Pool Party), was canceled after City staff members, and DeKalb County Police Department met with the tenant of the house, as well as the individual promoting the party.
"Both individuals have been cited by Code Enforcement for promoting a commercial activity in a residential area without the proper permits or licenses. Representatives from DCPD further reiterated the numerous State violations that would be imposed, if the party were to occur, Bell said.
Bell said the promoter canceled the event and said he would update all of his social media outlets to notify everyone that the event was canceled.
"Our Code Enforcement staff and DCPD will continue to monitor this issue. Our city team has been doing a great job in identifying these "Party House" locations and working with the property owners to bring an end to these activities," Mayor Lary said. "This will stop and it will stop now."
Brenda Herman, a resident at the Parks at Stonecrest, complained at the July 3 City Council meeting that it's been a slow process to get the parties stopped.
"The time that it takes this process to work is extremely slow," said Herman, who told the council that she has been complaining about a vacation rental property in her community since she moved into the community in October 2017.     
 "As homeowners, we have to live amongst the blatant violations that this homeowner/investor is causing upon our community…It seems to me that the violators are given so many opportunities to right their wrongs when they have no intentions of rightness from the very beginning," Herman said . 
"How do we prevent people from purchasing homes solely for the purpose of renting them out year-long?" Herman asked the council.
City officials say that as they work with DeKalb County police and code enforcement officials, they are working on putting more teeth into ordinances regulating vacation rentals. 
The city's Planning Commission will discuss vacation rentals at its upcoming meeting. The Planning Commission meets July 10, 6 p.m., at City Hall.