Testingfg of Ads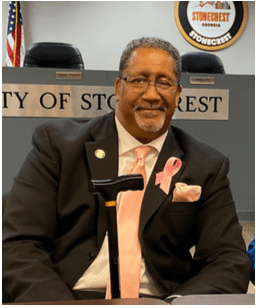 Stonecrest Mayor Jason Lary has been sporting pink this month in recognition of Breast Cancer Awareness Month. Lary says he wants survivors to know that he stands with them in helping to educate the public on the importance of health checkups, fitness and finding a cure for the disease.
Lary's personal victory over prostate cancer has shown him the importance of being on the frontlines in the battle against cancer. He said he "powered" his way through treatment because he had a great support team—his wife, Debbie, sons Jason, Jr. and James—and other family members and close friends.
On Common Ground News sat down with the mayor to discuss his journey, now approaching one year, and how he is now recovering from lymphedema, which occurred as a result of the cancer treatment.
To view the video, visit www.ocgnews.com.